Chocolate chip cookie dough cupcakes are everything you could want in a dessert, plus more! Moist cupcakes with cookie dough truffles baked inside, then topped with a brown sugar buttercream frosting. Incredible.
A few weeks ago, I made a recipe from Culinary Concoctions by Peabody, a deadly and dangerous Chocolate Chip Cookie Dough Cheesecake.  In her recipe, she warns that there will be extra cookie dough truffles, and she was right. After a few days of hiding them in the freezer and being unsure of what I wanted to make with them, I decided to follow her lead and use the rest in cupcakes.
I've been dying to make (and eat) chocolate chip cookie dough cupcakes, so this recipe was meant to be.
I sold the cupcakes at a bake sale for a previous employee of my store who has been battling cancer, and I raised $300. I was sold out long before we closed the store, and probably could have sold a ton more if I had been better prepared. I was proud of myself, though. I can always make improvements for the next time we need to raise some funds at the shop.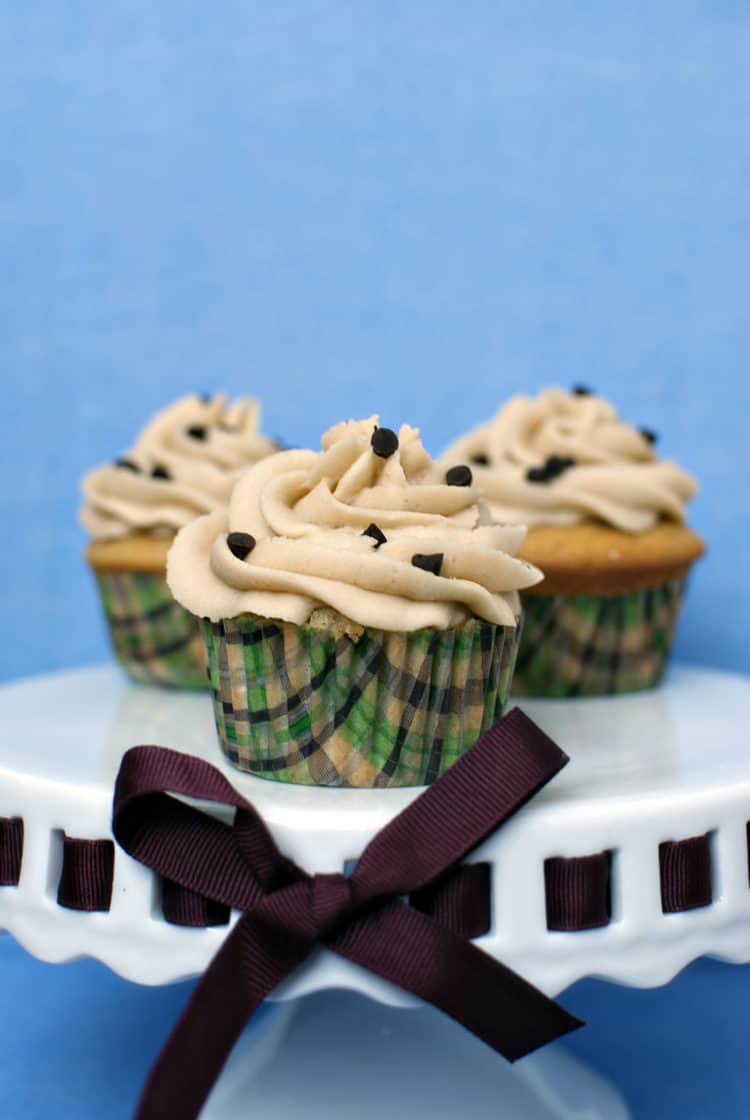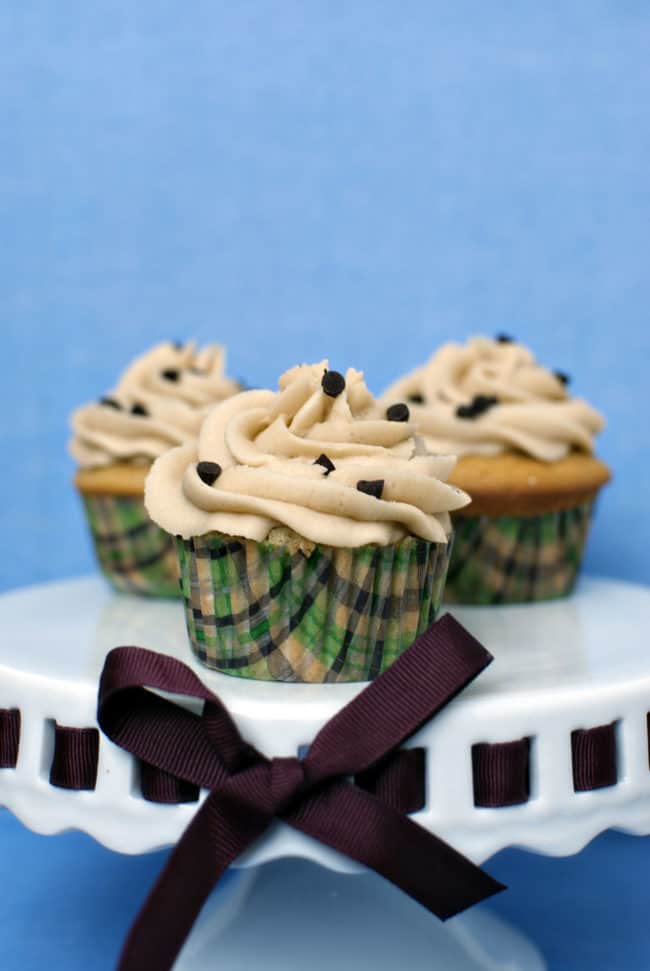 Chocolate Chip Cookie Dough Cupcakes with Brown Sugar Frosting
From Culinary Concoctions by Peabody
Chocolate Chip Cookie Dough Cupcakes
Ingredients:
3 cups flour
1 ½ teaspoon baking powder
1 ½ teaspoon baking soda
¼  teaspoon salt
12 tablespoon unsalted butter , at room temperature
2 cups light brown sugar
3 large eggs (room temp, separated)
9 ounces unsweetened chocolate, melted
2 cups milk
1 ½ teaspoon vanilla
Preparation:
Grease and flour two muffing/cupcake pans.
Sift dry ingredients and set aside. Using medium speed of mixer, cream butter until smooth. Add sugar and beat until fluffy for 3 minutes. In separate bowl, beat egg yolks until thick and lemon colored for 2 minutes. Add beaten yolks to butter mix and beat well. Add chocolate, mixing well. Add dry ingredients in thirds, alternating with milk and vanilla.
With each addition, beat until well mixed, but do not overbeat. Using a spatula, scrape down bowl, making sure ingredients are well blended and batter is smooth. In separate bowl, beat egg whites on high to soft peaks.
Gently fold into batter. Scoop batter into muffin pans, filling them up ⅓ of the way. Add a cookie dough truffle to the middle of the cupcake batter. Cover with another ⅓ of cake batter.
Bake at 350º for 18-22  minutes.
Cool in pans 10 minutes.
Brown Sugar Buttercream
Ingredients:
1 cup (2 sticks) unsalted butter, at room temperature
2 cups brown sugar
4- 6 cups confectioners' sugar
½  cup milk
1 teaspoon pure vanilla extract
Preparation:
In the bowl of an electric mixer fitted with the paddle attachment, combine butter, 2 cups brown sugar, 2 cups confectioner's sugar, milk, and vanilla. Beat on medium speed until smooth and creamy, 3 to 5 minutes. Gradually add remaining sugar, 1 cup at a time, beating for about 2 minutes after each addition, until icing reaches desired consistency; you may not need to add all the sugar. Store in an airtight container for up to 3 days.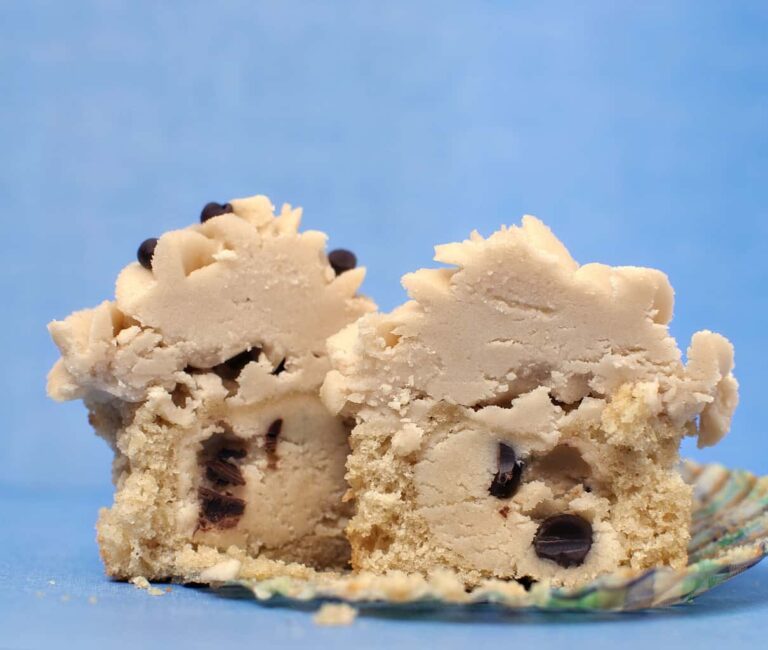 I omitted the chocolate from the cupcake recipe because I didn't feel like a chocolate cupcake. Not sure what was up with that, but oh well, I live to break the rules. If you do refrigerate the buttercream frosting, give yourself plenty of time for it to come to room temp again before you try to pipe those cupcakes - trust me.
Ok, I think we've had enough calories this week to last us a long long time. So enjoy these cupcakes with me and hit the salad bar heavy on the weekend because next week... Next week is trouble. I promise.