Celebrating Oktoberfest doesn't have to be all about the German beer. Especially when German Sauerbraten and Spätzle are ready to celebrate Oktoberfest right along with you!
Oktoberfest is this weekend and along with Germans, brats, and beer, I wanted to have a little something something for celebrating Oktoberfest with here at Pass the Sushi. So, I grabbed my heavy beer stein took my blend of NyQuil and Sudafed and with no knowledge of anything remotely German food-wise, made a giant mess in the kitchen.
The spaetzle was a challenge, as the directions called for a batter like dough, with an ingredient list that simple didn't produce something of that consistency. I added more water to account for the thickness and even then, still had problems getting the dough through the holes in the colander. My spaetzle making skills were definitely not bringing their A game. I have never had spaetzle before, so I am not sure if the dough should have been thinner or if the NyQuil was effecting my ability to shove dough through tiny holes over a pot of boiling water. Be warned, don't steam your arm hairs off - but let me know what the deal is.
The sauerbraten, where not my prettiest plating, was quiet tasty. The gingersnaps added a great flavor at the end.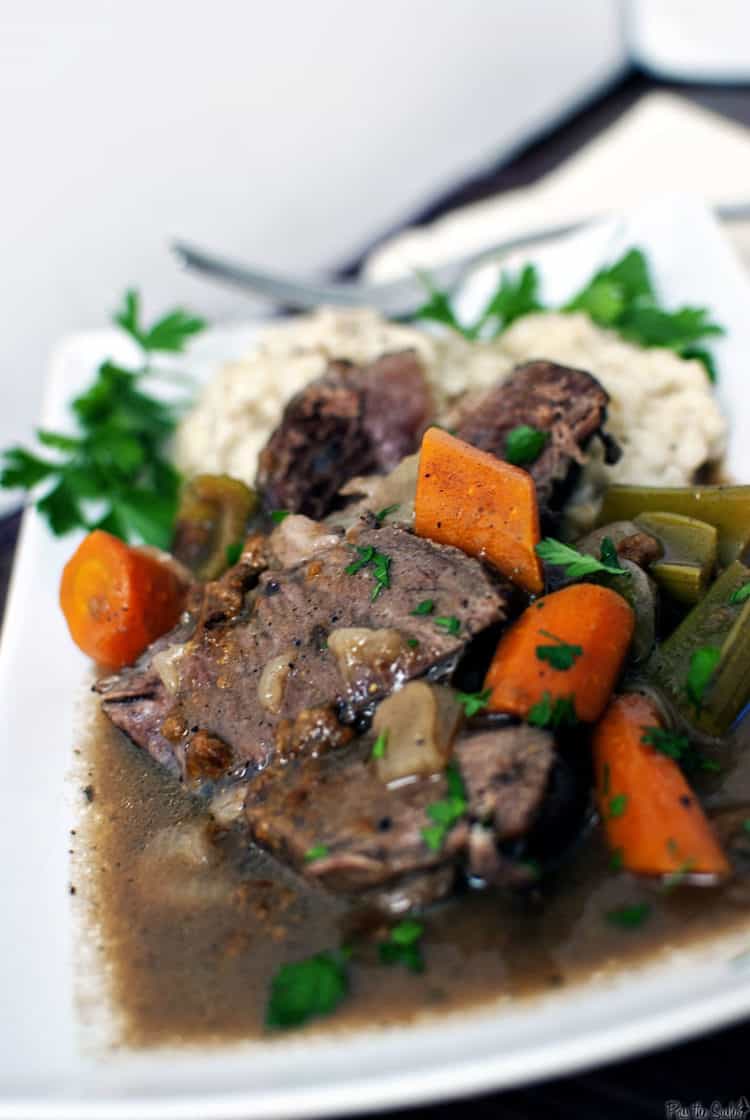 Come on... we're celebrating Oktoberfest in a delicious way!
Sauerbraten with Spaetzle
From Food Network Magazine October 2009
Ingredients:
3 cups low-sodium beef broth
1 cup dry red wine
1 cup red wine vinegar
2 large onions, cut into large chunks
5 cloves garlic; 3 crushed, 2 chopped
10 sprigs fresh thyme, plus 1 tablespoon chopped leaves
2 bay leaves
1 teaspoon juniper berries (available in the spice aisle)
1 teaspoon black peppercorns
½ teaspoon whole cloves
1 3-to-4-pound boneless beef top chuck roast
Kosher salt
2 tablespoons extra-virgin olive oil
2 medium carrots, cut into 1-inch chunks
2 stalks celery, cut into 1-inch chunks
2 tablespoons all-purpose flour
2 tablespoons crushed gingersnap cookies
Freshly ground pepper
Spetzle, for serving (see page 152)
Sour cream, for serving (optional)
Chopped fresh parsley, for garnish
Preparation:
Combine 2 cups broth, the wine, vinegar, 1 chopped onion, the crushed garlic, thyme sprigs, bay leaves, juniper berries, peppercorns and cloves in a medium saucepan over medium heat. Bring to a boil, then simmer for 5 minutes. Cool to room temperature. Place the beef in a large resealable plastic bag and pour in the marinade. Seal the bag and refrigerate for 2 to 3 days, turning daily.
Preheat the oven to 350. Remove the meat from the marinade and pat dry; season with salt. Strain the marinade, discarding the solids. Heat a large ovenproof pot over medium heat and add the olive oil. Add the meat and brown on all sides, 10 to 12 minutes, then transfer to a plate. Add the carrots, celery and the remaining onion to the pot and cook until slightly softened, 5 minutes. Stir in the chopped garlic and chopped thyme and cook 1 minute. Sprinkle in the flour and cook 1 to 2 minutes. Stir in the strainedmarinade and the remaining 1 cup broth and bring to a simmer. Return the meat to the pot, cover and cook in the oven until tender, 2 hours 30 minutes.
Remove the meat and transfer to a plate. Bring the sauce to a simmer over medium heat. Whisk in the gingersnaps and simmer until thickened; season with salt and pepper. Thinly slice the meat; serve withspaetzle, the vegetables and sauce and sour cream, if desired. Top with parsley.
Homemade Spaetzle
Ingredients:
3 cups all-purpose flour
2 large eggs
Kosher salt
4 tablespoons unsalted butter; 2 tablespoons melted
Freshly ground pepper
Chopped fresh parsley, for garnish
Preparation:
Mix the flour, eggs and a pinch of salt in a bowl, then gradually stir in up to 1 cup water to make a smooth, batter-like dough. Beat with a wooden spoon until bubbles form, then stir in the melted butter.
Bring a large saucepan of salted water to a boil. Place about 1 cup of the dough in a colander with large holes; use a rubber spatula to push the dough through the holes and into the boiling water. (Or use a spaetzle press.) Cook for about 1 minute after the spaetzle float to the surface, then transfer with a slotted spoon to another colander. Repeat with the remaining dough. Rinse the spaetzle in cold water if not serving immediately and set aside.
Before serving, saute the spaetzle in a skillet with the remaining 2 tablespoons butter until warmed through. Season with pepper and garnish with parsley.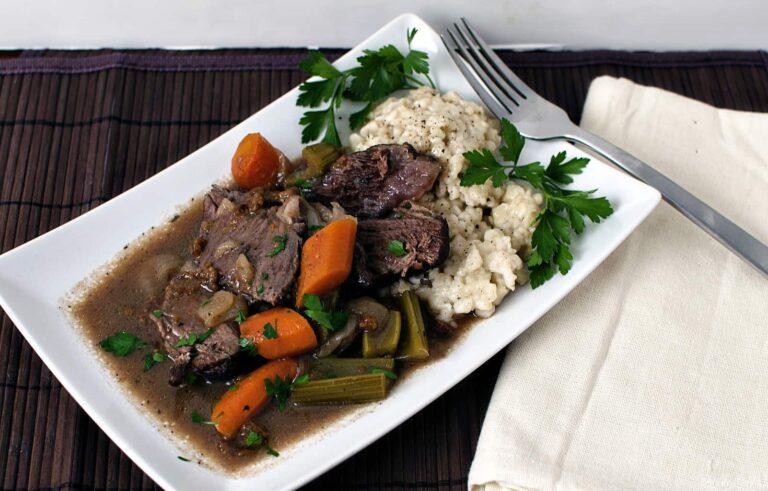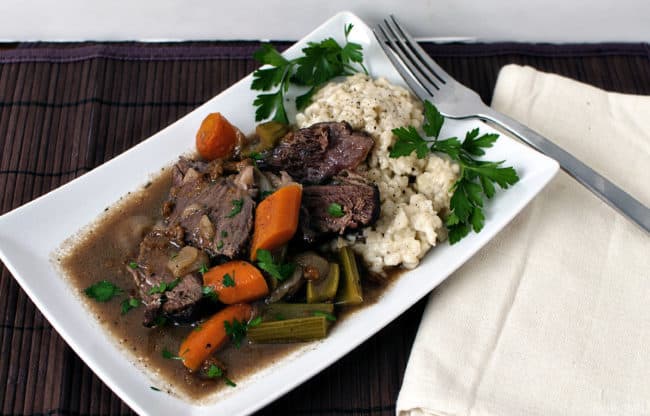 I promise prettier dishes for all celebrations for this point out. Pinky promise even.