Better than crack brownies! In other words, this brownie recipe is so rich, chocolaty and fudgy that you will do just about anything to get a bite of them.
If you are going to say something is better than crack, you have set the bar pretty high. My expectations are that I am not going to be able to walk away. I will be like a fiend for the thing, unable to stop myself, to the point of being fidgety and wired trying to get more. Until ultimately, I become fatigued and moody until I can have another hit.
Well, heck, that's me without dark chocolate in the house any old day, but these better than crack brownies will do it to you, too. Just a small bite and you want more. But you shouldn't. They are rich and satisfying. Crunchy, sweet, salty – and insanely dense. And yet, there you'll be, wanting just one. more. bite.
Crack will cause you to lose weight and rot out your teeth. These brownies could potentially make your teeth fall out, if you didn't brush them for a while, but they certainly won't help with any weight loss.  And yet, even as I type this up and the brownies are long gone, I'm drooling at the idea of another. Just one more, baby, and I swear I'll stop.
So, New Year's weight loss resolutions be damned.
Get in the kitchen and whip up a batch of better than crack brownies.
Admit it, you've been itching to use that box mix up any way.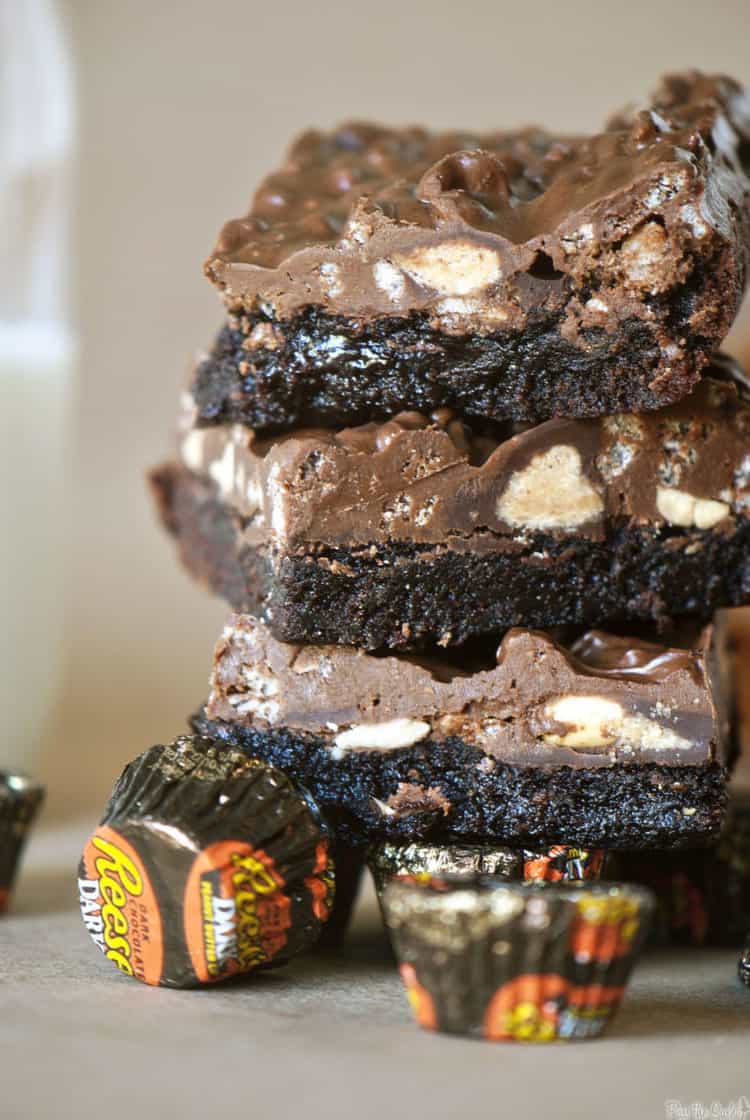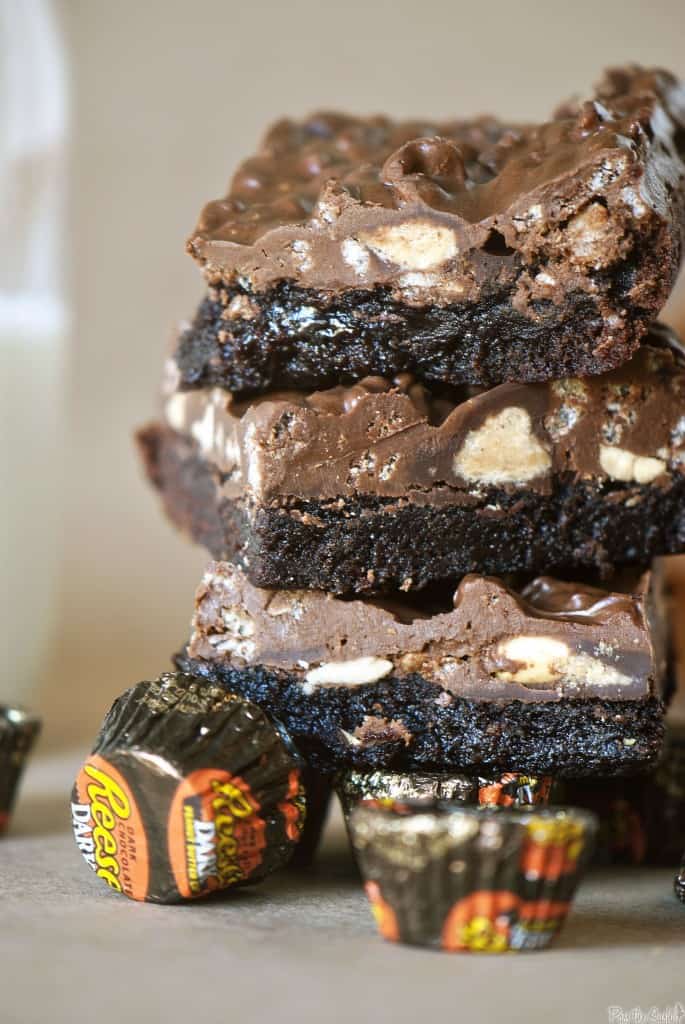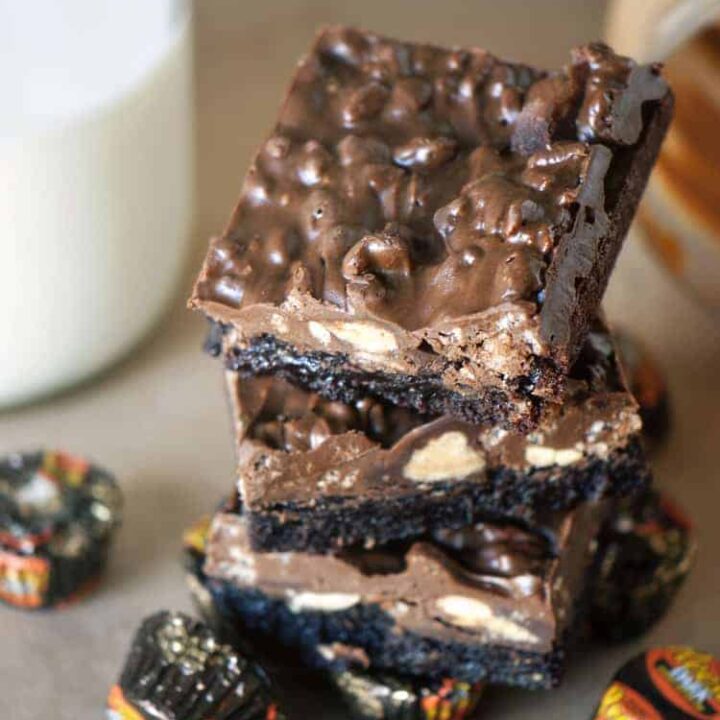 Ingredients
1

box brownie mix and all the fixens to make them according to the package

-

or your favorite brownie recipe

1/2

cup

salted peanuts

1

cup

mini Reese's peanut butter cup

-

dark chocolate if available

1 1/2

cup

semi-sweet chocolate chips

1 1/2

cup

creamy peanut butter

1/2

tablespoon

butter

1 1/2

cups

Rice Krispies Cereal
Instructions
Preheat oven to 350 degrees F. Line a 9×13 inch pan with parchment paper and grease.

Mix brownies according to the directions on the package, pour into prepared pan and bake for 20-25 minutes. You are going to bake these again, so underdone is ok. Besides, gooey is so good.

Remove the brownies from the oven and and sprinkle the peanuts and peanut butter cups over top, and bake for 4-6 minutes more. You should be salivating hard core right about now. Don't worry, no on will know if you munch on an extra peanut butter cup while this all comes together.

Meanwhile, melt chocolate chips, butter, and peanut butter in a large bowl in 30 second intervals in the microwave. Stir in cereal to coat. Remove brownies from oven and evenly pat the cereal mixture evenly over the top.

Now the hard part: Refrigerate for 2 hours before serving. Go on, sneak another Reese's, you're going to need it.

Serve in small 1 to 2 inch squares. Trust me. Just like crack, too much at once can be deadly.
Nutritional informations provided as a courtesy and is only an approximatation. Values will changes based on ingredients used.
⭐ Tried this recipe? Rate it ⭐
Help out the next person and give it a star rating below!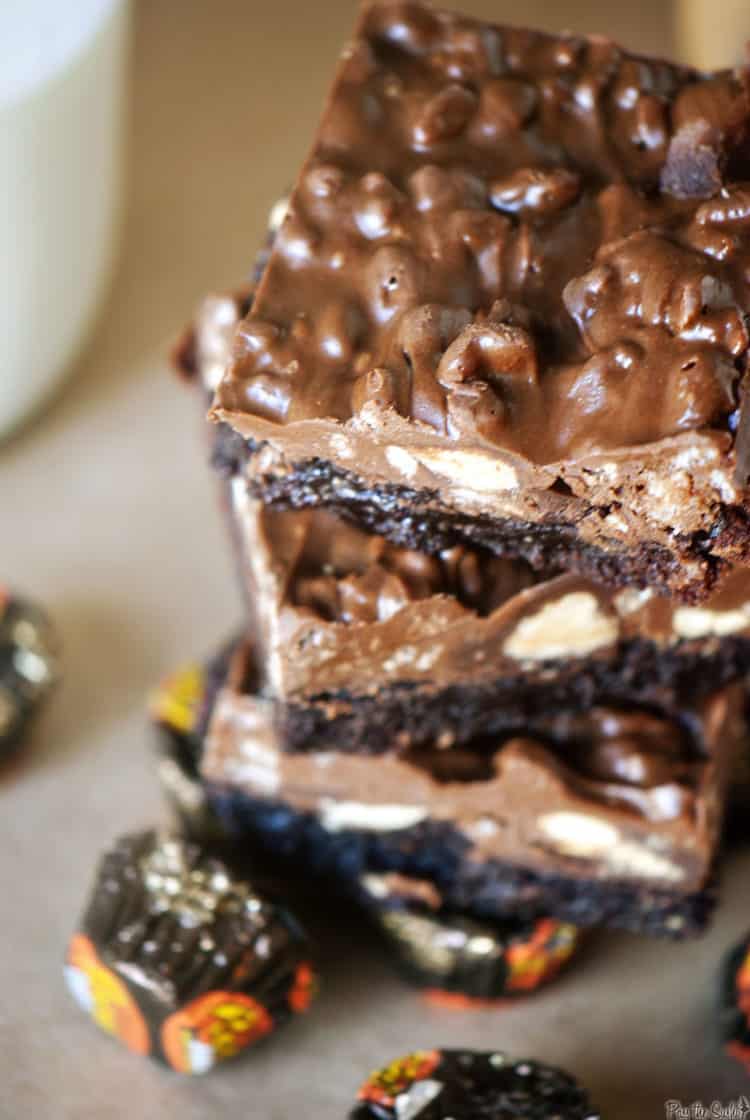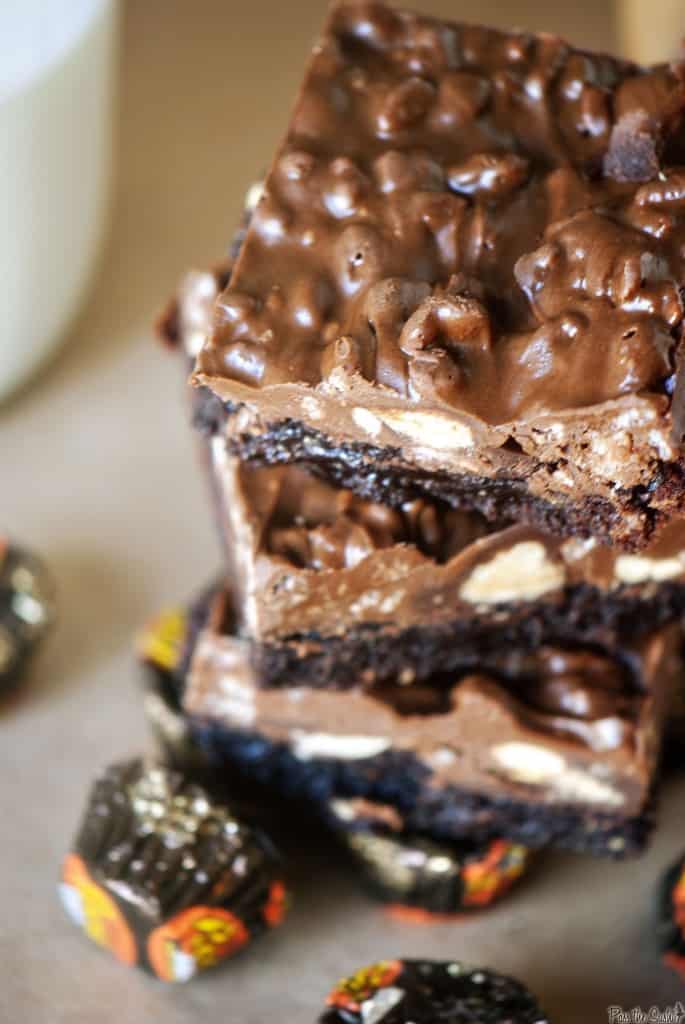 Told you you'd be seeing more of that inner fat kid. 😉