Homemade light brioche buns are light and tender on the inside and golden crispy on the outside. Sturdy enough for a burger, yet soft enough for an every day dinner roll.
A key component to any great sandwich is the bun. You need a bun that can hold up the fillings, but doesn't take away from the experience. (oh, insert the bun jokes here.) I've been known to throw away a bun if it's too overpowering for the burger, or just takes away from the experience. Oh and if its too chewy or dry, its out.
So, needless to say, with all the
burgers
off the grill lately, there have been some brioche buns baking in this household. We're not even going near the oven jokes – that just freaks me out.
My first batch of brioche buns looked wonderful, right up until they deflated (a second before being placed in the oven). They were good, but rather short for a burger. Danielle over at
Runs with Spatulas
mentioned these to me and I knew I had to try them after my other defeat.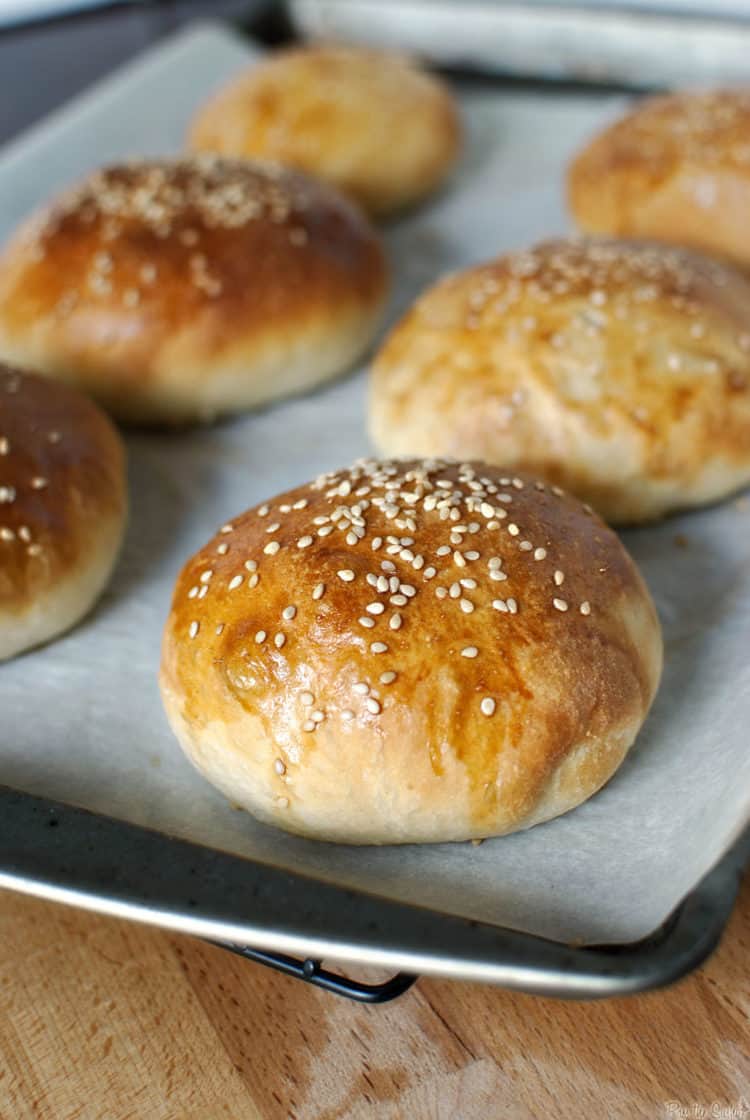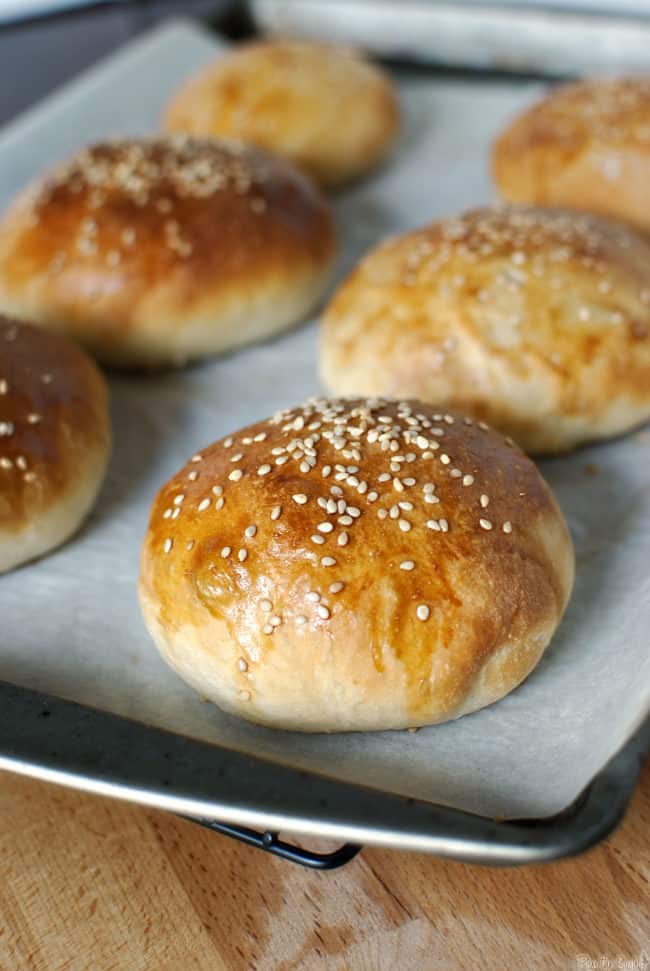 Here's the recipe for the brioche buns. Let me know what you think!
Light Brioche Burger Buns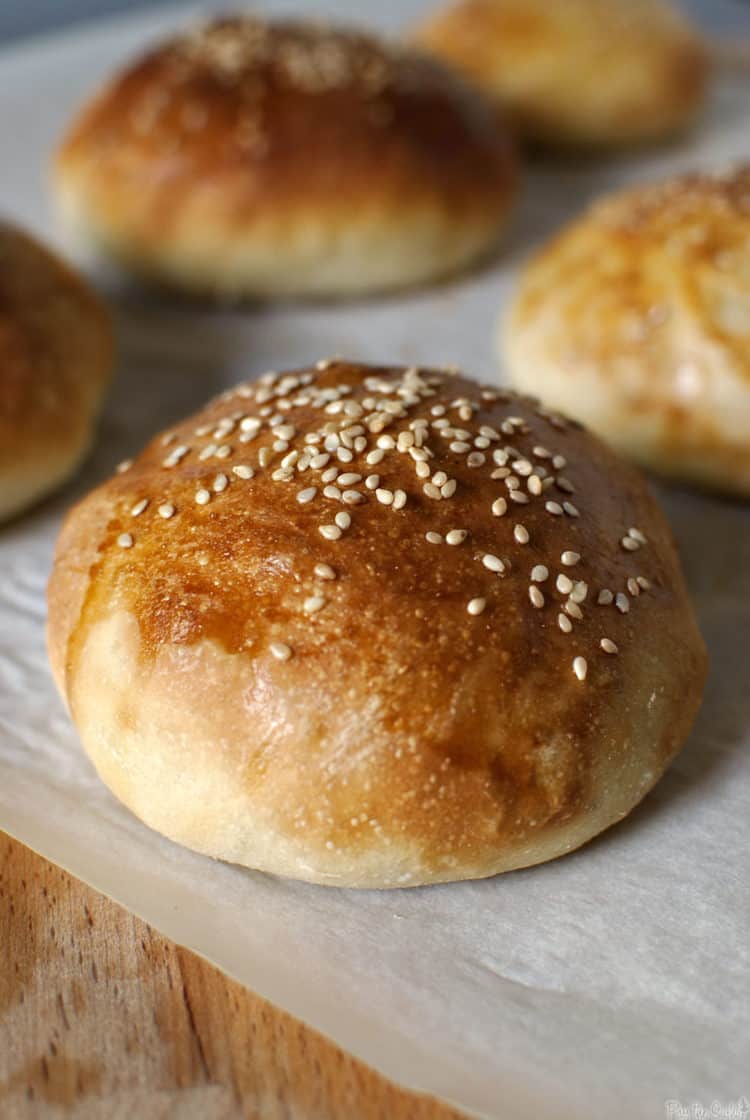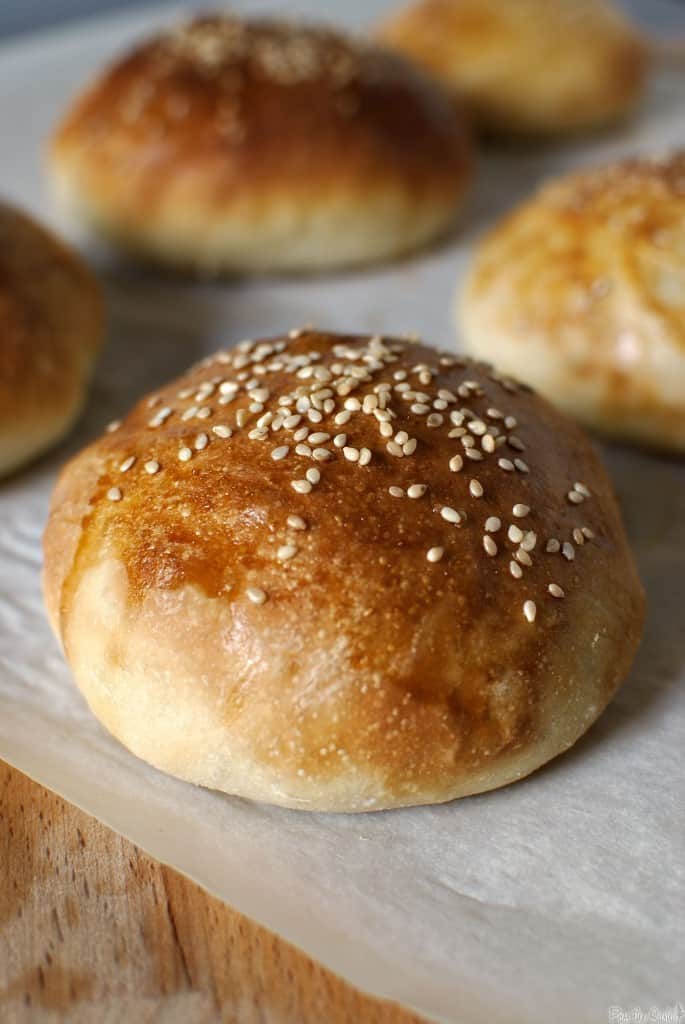 Ingredients:
3 tablespoons warm milk (105-115 degrees F)
1 cup warm water (105-115 degrees F)
2 teaspoons active dry yeast
2 1/2 tablespoons sugar
1 large egg
3 cups bread flour
1/3 cup all-purpose flour
1 1/2 teaspoons salt
2 1/2 tablespoons unsalted butter, at room temperature
small egg, lightly beaten
1 tablespoon water
1 teaspoon sesame seeds
Preparation:
Combine milk, 1 cup water, yeast, and sugar in a glass measuring cup, stirring well. Let sit for about 5 minutes, or until the top is foamy. In a small bowl, lightly beat one egg.
In the large work bowl of a mixer, stir together both flours and salt. Cut in butter until crumbs form. Add the egg and yeast mixture to the flour. Mix together with the dough hook attachment on low. Once combined, increase the speed to medium until the dough is smooth and elastic, about 6-8 minutes (or 8-10 minutes if you are kneading by hand). The finished dough may be slightly sticky (do not add additional flour).
Transfer the dough to a clean work area and into a ball. Place the down in a greased bowl, flipping once to coat entirely. Cover bowl with plastic wrap and let rise in a warm, draft-free location until doubled in size, 1-2 hours.
Remove dough from the bowl and place on a clean work area. Punch the dough down, then let rest for about 5 minutes. Divide the dough equally into 10 sections and shape each into a ball. Line a baking sheet with parchment paper. Transfer the dough balls to the baking sheet, spacing them out 2-3 inches. Cover with plastic wrap coated with cooking spray. Let rise for an additional 1-2 hours until doubled in size.
Set a large shallow pan of water on oven floor. Preheat oven to 400 degrees F.
In a small bowl, beat together 1 egg with 1 tablespoon water. Brush the egg wash on top of each bun. Sprinkle the buns with sesame seeds. Bake, turning sheet halfway through baking, until tops are golden brown, about 15 minutes. Transfer to a rack to cool completely.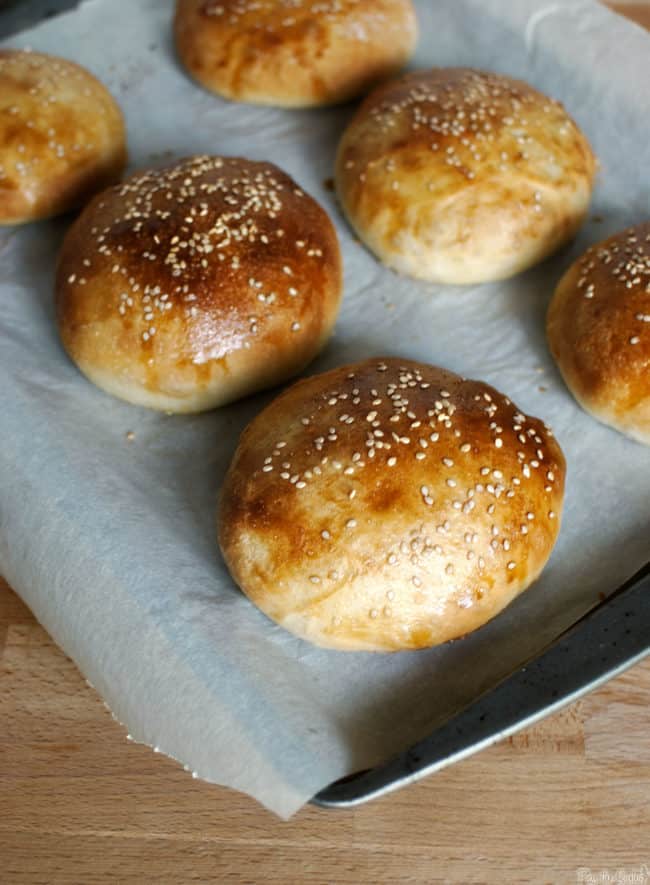 These brioche buns turn out beautifully, although, I may make a change next time. Because the brioche buns deflated the first time, I plan to bake them for 7 minutes before adding the egg wash, and then finish the baking. The suggestion is made by a friend of mine.
And on a serious note: when baking using steam, be very careful when opening the oven door.