Apple Pie Stuffed French Toast. Warm, gooey, and oh so delicious. Who says you can't have pie for breakfast?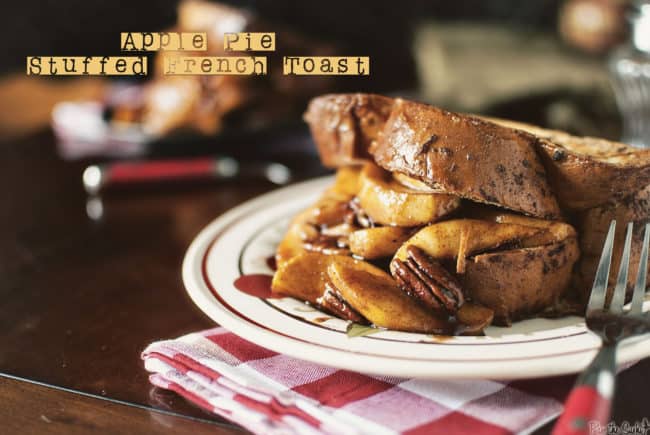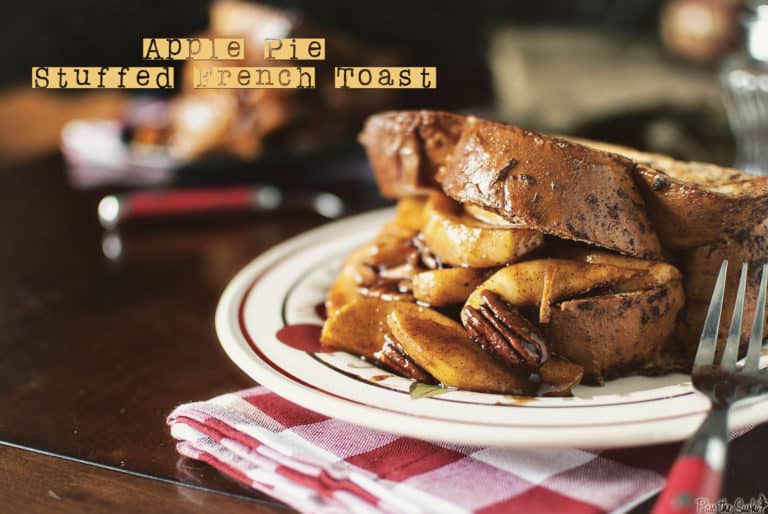 Do you judge a market by it's price tags? Do cheaper price tags and bottom dollar prices make a market less clean or not as good as the ones with the flashy price tags and eateries? My favorite market isn't the most expensive one in town, but because of it's location the client base is very wide which means I can find almost anything I am looking for on the shelves. And, It is at prices that won't make me cringe either. It isn't always spotless, but with the volume of people they get, I can't complain about the tidiness. Though, I have never seen anything that would put me off from ever returning as well.
To top it off, when they have sales, they have serious sales.
My only complaint about my cheap, local, well stocked market - the check out lines. O.M.G. I'm pretty sure there isn't one quick or efficient cashier in the place. They can't tell the difference between scallions and pears, let alone if the green leafy bundle is parsley or cilantro. They put the elderly man at the express check out... While I may find him cute as the day is long, there is nothing express about any of his transactions. They don't know how to bag, tossing anything and everything together, and there have been days when I have been rung out with out so much as a hello, good bye, or go F yourself. (This one happens to be a major pet peeve of mine, but maybe that's because I work retail).
Does being a 'cheaper' market make the behavior of the check out staff ok? Or should I still expect a civilized transaction? Everyone has bad days. But, when you work with the public, isn't it your job to at least say hello or ask for a store card. To be fair, every other department (deli, bakery, seafood) has exceptional customer service and I love chatting up the staff while I am there. I just happen to dread checking out.
Apple Pie Stuffed French Toast
Now, while this is one the best, over the top french toasts, don't be afraid to try these other variations to mix things up ;).

Grand Marnier French Toast
Baked Croissant French Toast
Vanilla French Toast
If you've tried this Apple Pie Stuffed French Toast recipe, or any other recipe on passthesushi.com please don't forget to rate the recipe and let me know where you found it in the comments below, I love hearing from you! You can also follow along for more good eats and travel tips on Instagram @passthesushi & @girlcarnivore, Twitter & Facebook.
Yield: 8 servings
Apple Pie Stuffed French Toast
Apple Pie Stuffed French Toast. Warm, gooey, and oh so delicious. Who says you can't have pie for breakfast?
Ingredients
For the Filling:
1 tbs butter
2 apples of your choice, I used granny smith and fuji cuz it's what I had laying around, peeled and cored
½ teaspoon cinnamon
½ teaspoon all spice
⅛ teaspoon ground cloves
dash of freshly grated nutmeg
1 tbs brown sugar
¼ chopped pecans
1 - 2   tbs bourbon
For the toast:
1 loaf brioche or challah bread
2 cups heavy cream
2 cups milk
6 eggs
1-2 tbs ground cinnamon, I like to add fresh for each dipping
2 teaspoon vanilla
2 tbs unsalted butter
Instructions
Slice the bread into thick portions, remember you will be stuffing these, so 2 - 2 ½ inches isn't crazy. Lay it on a wire rack for an hour or so.
Make the filling.
In a large skillet over medium heat, melt the butter and coat the pan.
Saute the apples with the cinnamon, all spice, cloves, and nutmeg for 30 seconds.
Add the brown sugar, pecans, and bourbon and cook down about 7-10 minutes until the apples are tender. Cover to keep warm and set aside.
Make the French Toast
Preheat your griddle or skillet to medium-high. Lay a wire rack on a baking pan and preheat the oven to 200 degrees F.
Whisk together the cream, milk, eggs, and vanilla until small bubbles appear. Stir in the cinnamon.
Lay the bread slices in and let them soak for 15 seconds before flipping and soaking the other side.
Coat the griddle with butter, sliding it around as it melts.
Place bread on griddle with the side you soaked first down on the heat. Cook until golden brown, flip and cook the other side until golden.
Remove French toast from griddle, spoon in apple filling and place on wire rack in oven to keep warm while you prepare the rest.
Serve and enjoy.
Nutrition Information:
Yield:
8
Serving Size:
1
Amount Per Serving:
Calories:

578
Total Fat:

41g
Saturated Fat:

23g
Trans Fat:

1g
Unsaturated Fat:

15g
Cholesterol:

285mg
Sodium:

296mg
Carbohydrates:

40g
Fiber:

4g
Sugar:

16g
Protein:

13g
Nutrition information provided is an estimate from nutritionix.com. For specific health concerns, please put the recipe into your Dr recommended nutrition calculator.