Curried turkey pot pie is about as comforting as comfort food gets. It's full of flavor and because they're a single serving size, they bake up quickly.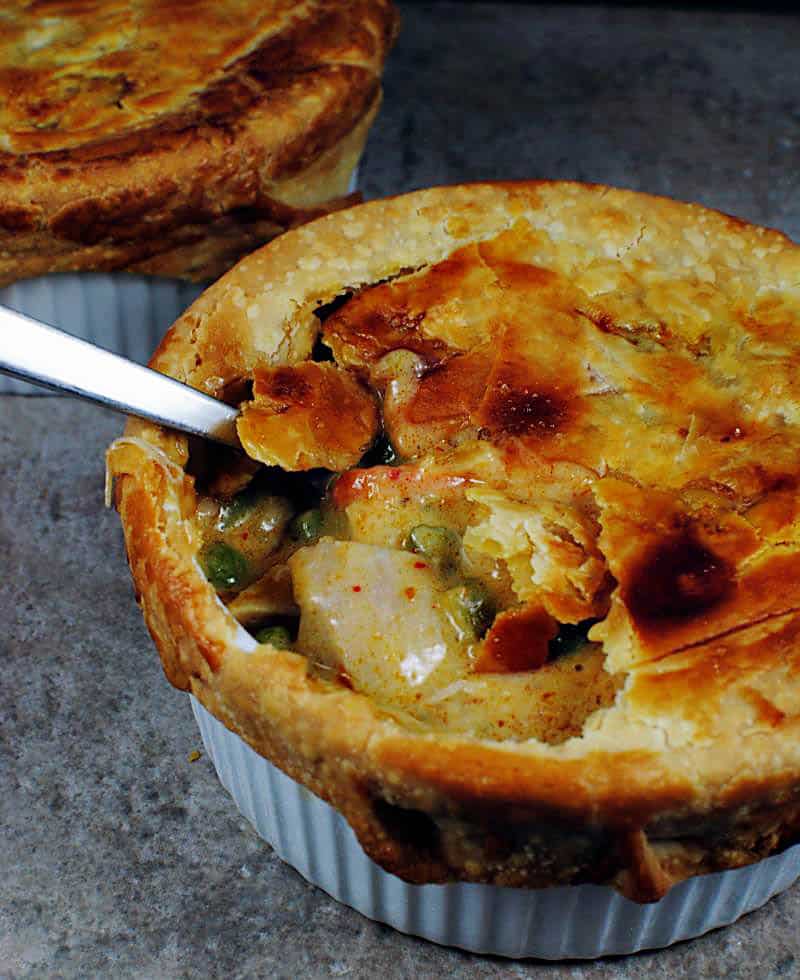 Even though we had several people join in our Thanksgiving feast, it just wouldn't be the same without leftovers. And despite everyone's best efforts, there were plenty of leftovers. My parents sent us home with a giant plate of turkey, an entire pie and the trimmings. But, as much as I love a simple turkey sandwich on white bread, this much turkey needed to be used up before it went bad.
I had seen a show the other day where the chef made a curried chicken pot pie and knew that's what I would be doing with my Thanksgiving day leftovers. This was warm and cozy not to mention incredibly flavorful. This turkey pot pie really hit the spot.
I may even need to steal some more leftover turkey to make another one.
Curried Turkey Pot Pie
Inspired by Alton Brown's Curry Chicken Pot Pie – Adapted by Me
Ingredients:
3 tbs olive oil
1/2 onion, diced
2 ribs celery, diced
2 carrots, diced
3 tbs flour
2 tbs red curry paste
1 1/2 cup chicken stock
2/3 cup coconut milk
1 tsp dried parsley
S&P
3 cups leftover cooked chopped turkey or chicken, cut into bite sized pieces
1/2 cup frozen peas
1 tbs Fresh cilantro
frozen pie pastry, defrosted
2 egg whites
Preparation:
Preheat oven to 450 degrees.

In a skillet, heat 2tbs olive oil over medium heat. Add onion, celery, and carrot. Saute 5 minutes.
Meanwhile, heat over medium low, chicken stock and coconut milk in a large pot.
Add final tbs olive oil, flour and curry paste. Saute 2 more minutes.
Add the celery mixture to the pot with chicken stock and coconut milk. Reduce heat to low and add parsley, salt and pepper, turkey, frozen peas and cilantro.
On a lightly floured surface, roll out the pie crust. Using either one large ceramic dish or several smaller ramekins, cut out a circle about 1 inch over the intended surface. Poke through the pie crust several times with a fork to let out steam while cooking and brush with egg whites.
Fill ramekins with mixture and top with pie crust, pinching the edges shut.
Bake for 20 to 30 minutes, until pie crust is a nice golden brown.
Remember, this will be scalding hot on the inside, so please let it cool a bit before chowing down.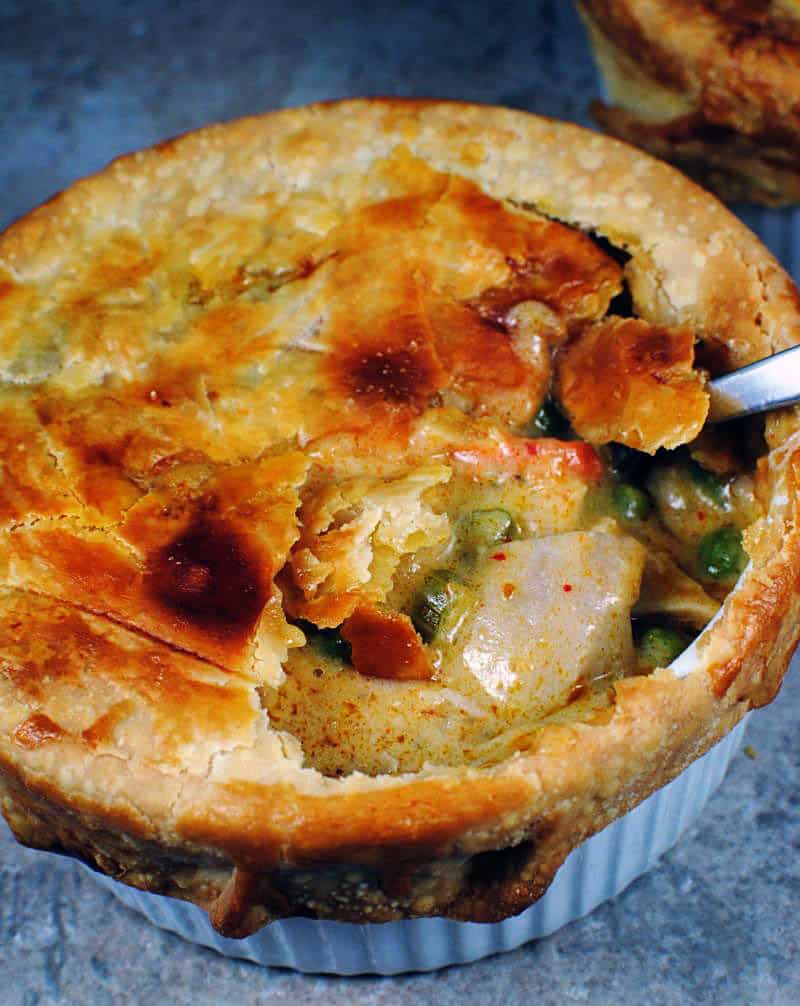 When I make this turkey pot pie again (because I will be making this one again), I will probably add raisins and an apple for sweetness. The bit of sweetness would go really well with the curry flavor. Some of my readers will note that cilantro made it to my list of ingredients. No, I did not use any cilantro in my pot pies (yes, I still hate it), however, I believe it would really add to the flavor and compliment this dish very well.