Welcome to the Virtual Surprise Baby Shower for Rachel!  Rachel is the champ who runs Rachel Cooks – and her popcorn craving have been driving me crazy since she announced that she was expecting! We wanted to celebrate Rachel's new bundle of joy by linking up and throwing her an online shower. I always give it up for momma's that also run blogs. I can't even being to pretend I know how rough it can be! I fall behind on posts and my kids are all furry and bathe themselves (well, for the most part). Rachel is always whipping up show stopping food like this, and this, ooooh yeah and we can't possibly forget that! She also hosts regular interviews with other bloggers, just one more thing about her blog I totally dig. So sit on back and enjoy all the food we brought to table!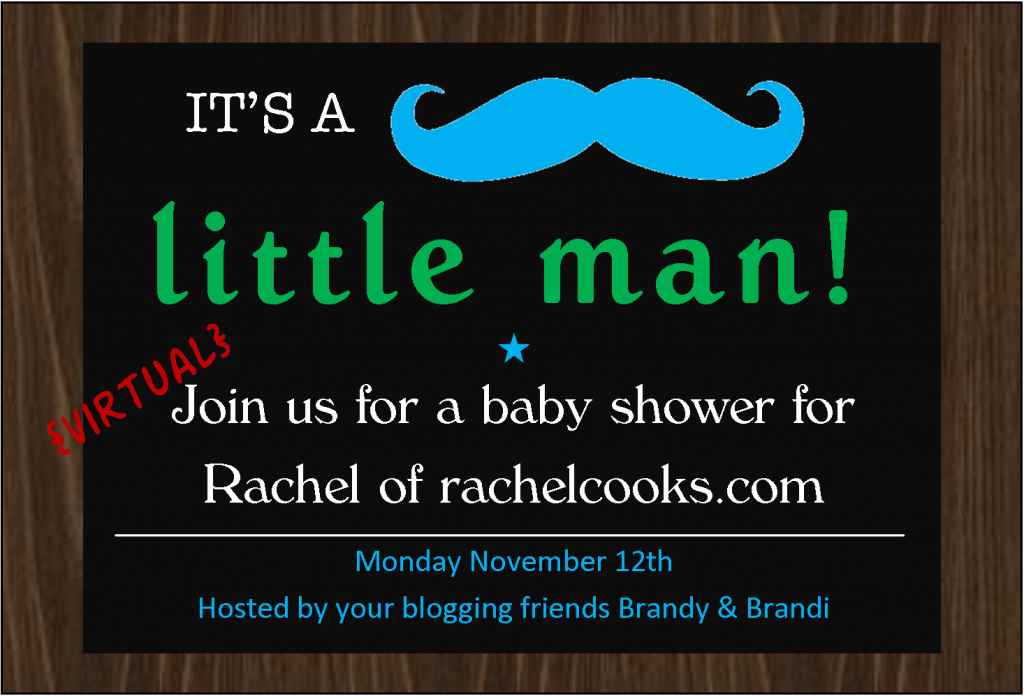 I made soup for my step sisters bridal shower, and it was a hit. I can't imagine throwing a party now without a soup option. I stacked mugs near a crock pot set to warm so that people could help themselves throughout the day.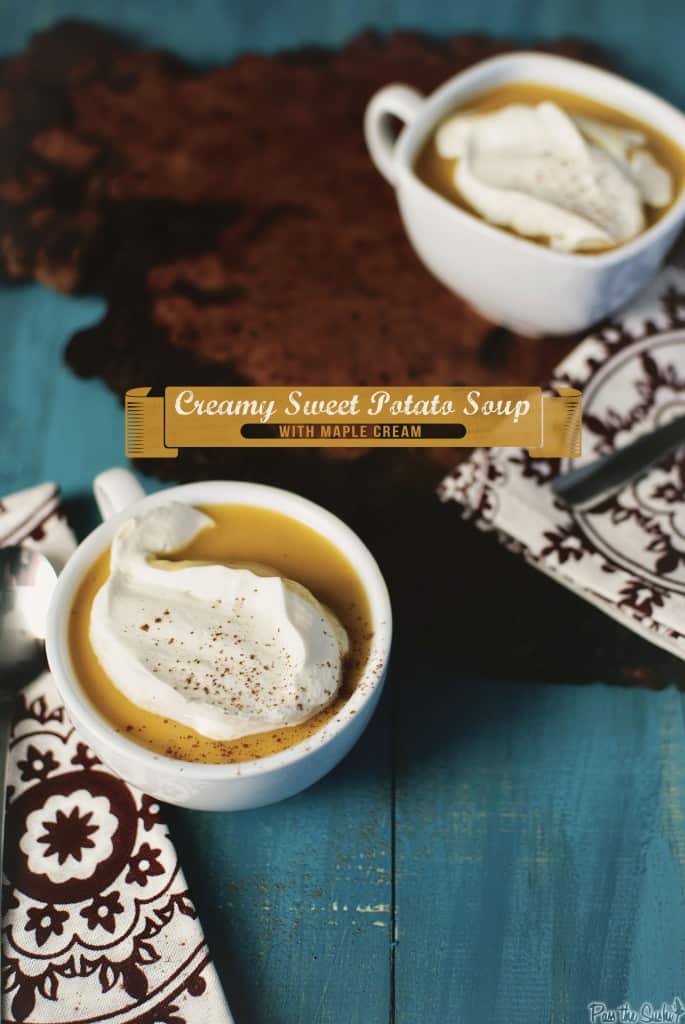 Creamy Sweet Potato Soup with Maple Cream
Ingredients:
For the Soup:
3 tbs olive oil
1 onion, chopped
1 leek, white part only, sliced
2 1/2 lbs sweet potatoes, peeled and cut into 1/2″ cubes
4 cups vegetable stock
2 cups chicken stock
1 teas salt
1 cinnamon stick
1/4 cup heavy cream
1 tbs cider vinegar
1/2 teas freshly ground nutmeg
Dash of ground clove
Dash of cayenne pepper
Freshly ground black pepper
For the Maple Cream:
1/2 cup heavy cream
3 tbs real maple syrup
1/8 teas salt
Preparation:
In a large stock pot or Dutch oven, heat olive oil over medium-high heat. Saute the onion and leek about 3 minutes, or until softened. Add sweet potatoes, vegetable and chicken stock, salt, and cinnamon stick. Bring to a boil. Cover and reduce heat and simmer about 40 minutes, until sweet potatoes are fork tender. Discard the cinnamon stick.
Process the soup in batches with your blender (use caution when blending hot liquids!!!) or with your immersion blender, until thick and creamy. Return liquid to pot and stir in cream, vinegar, nutmeg, clove, cayenne, and pepper. Heat through, but do not let boil.
Meanwhile, in the bowl of your electric mixer fitted with the paddle attachment, whisk cream on high until soft peaks form. Slowly add maple syrup and salt. Whip until just combined being careful not to over whip (dry peaks).
Serve soup with dollops of cream on top. For leftovers sake, i just stirring the remaining cream into the soup letting it melt evenly. When reheating, microwave on low power stirring every 40 seconds until heated through.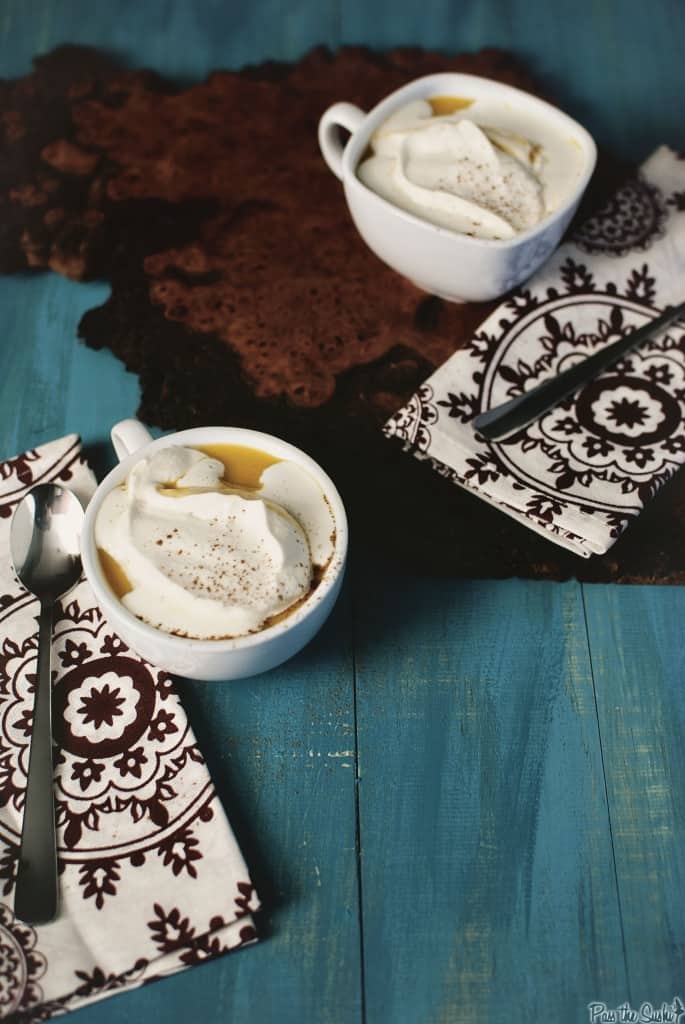 Now go check out all the other goodies my fellow amazing bloggers brought to the party!
S'mores Popcorn – Nutmeg Nanny
Patchwork Baby Quilt Cupcakes – Creative Culinary
White Chocolate Biscoff Muddy Buddies – Miss in the Kitchen
Snickerdoodle Scones – Fake Ginger
Walnut Streusel Coffee Cake – Cookistry
Salted Caramel Cashew Popcorn – Bake Your Day
Primal Pumpkin Whoopie Pies – Bread & Butter
Turtle Pumpkin Ice Cream Cake – A Spicy Perspective
Southern Cheese Straws – 30 A Eats
Blue layered Jello – Taste and Tell
Mini blackberry pies – Oh Sweet Basil
Salted Caramel Cashew Popcorn  – Bakeaholic Mama
Cucumber Sandwiches – Susie Freakin Homemaker
Cranberry Citrus Meatballs (Slow Cooker)  – Diabetic Foodie
Itty Bitty Chocolate Thumbprint Cookies – Chip Chip Hooray
Hermit Bars – Chewy Molasses Cookie Bars -The Lemon Bowl
Baby Blue Cheese Burgers – Budget Gourmet Mom
Pumpkin Cinnamon Rolls – Mother Thyme
Bourbon Toffee Popcorn – Bran Appetit
Roasted Butternut Squash and Sage Pesto Crostini – Thirfty Veggie Mama
Curried Salmon Phyllo Cups – Cooking with Books
Sweet Potato Pie Dip with Pie Crust Dippers – The Spiffy Cookie
Dark Chocolate Cashew Brittle Cookies – Farmgirl Gourmet
Mini onion and feta pizzas – London Bakes
Apple Asiago Prosciutto Bites –  Sarah's Cucina Bella
Baby Blueberry Pies – Steph's Bite by Bite
Chicken Salad – Eat 2 Gather