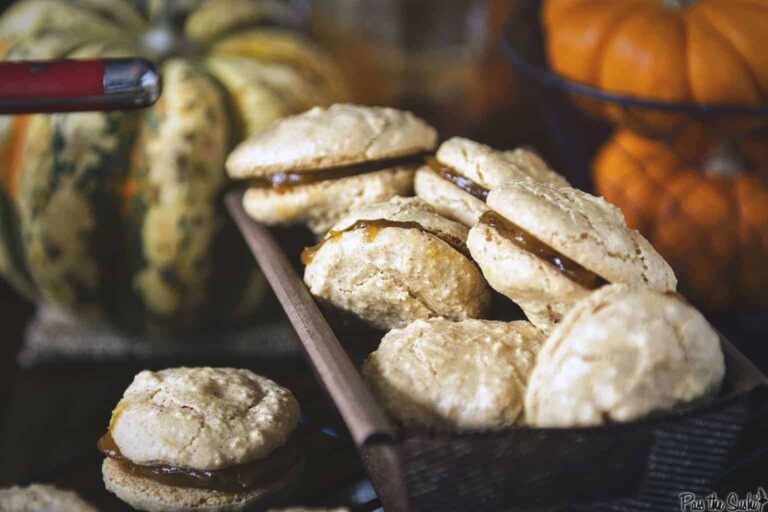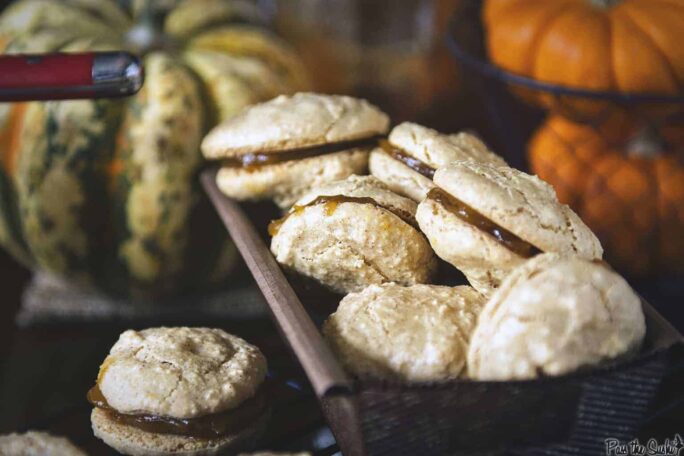 Sorry, guys. I couldn't help it. I have been eyeing this recipe up for like 2 years. I meant to post it last year, but my macaroon skills were not up to par. After 3 attempts, I walked away vowing to try again. Well, again was this season, and sure my macaroons may not be perfect looking, but oh my were they perfect. One bite into these little clouds and you will understand what the macaroon madness is all about. I only experienced my first macaroon a year or so ago, and it was love at first bite. Tender, light, amazing, and the flavor. Who knew gentle little clouds could pack that kind of flavor. Sure, these aren't your stir and drop cookies, they require a little more finesse. But… Seriously, worth the effort.
Speaking of finesse, while in line the other day at the market a young woman was ringing out a lady of a little more age (ok, finesse was a really bad segue). I am not sure how their conversation got to the point it was headed but before I knew it the more mature woman was telling this young girl to raise her children on her own and that men were good for nothing. It wasn't a passing comment, it was a harsh crude judgement laced with venom. The woman was obviously very upset with some things in her own past. When I stepped up in que, the young lady looked at me with unsure eyes. I made a joke and went on about paying my bill. But, it got me thinking. How much 'advice' does this young lady year every day. How many people are kind to her and how many people have comments ready to bite. Maybe it's because I've worked retail a really long time, but when I step up, I always try to smile and say hello, asking honestly how the persons day is going. One little smile is all it takes some days. Especially after a parade of rather opinionated advice.
Now… onto those cookies.
Serve these little guys with your holiday menu this year as a sweet treat and I promise, your friends, family, and guests will be amazed! If you are really feeling nice, hand them out to your local sales clerk.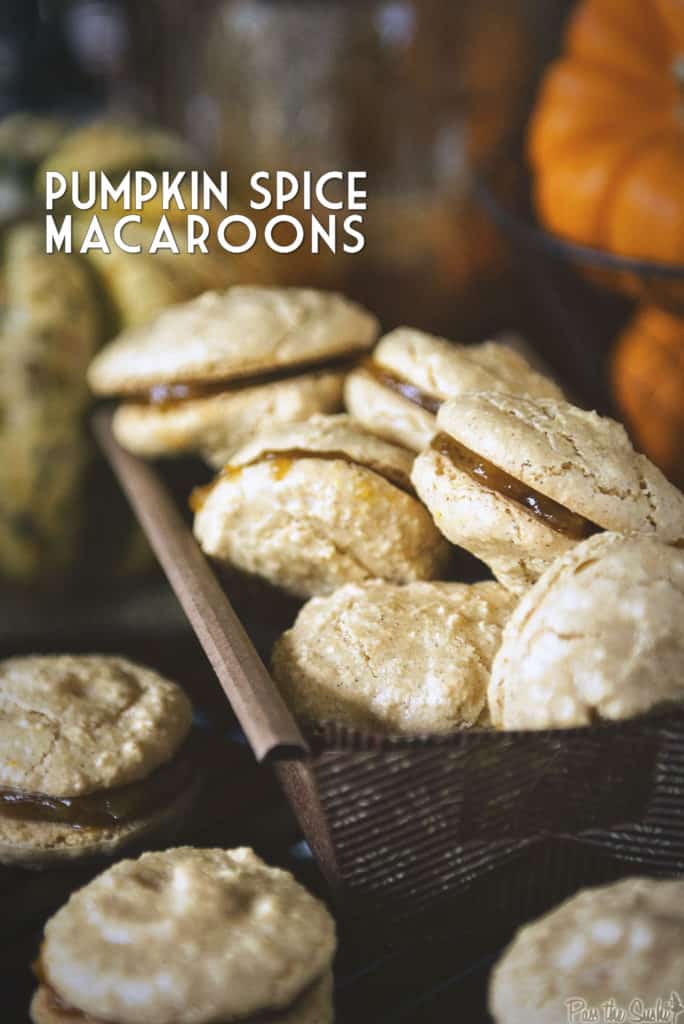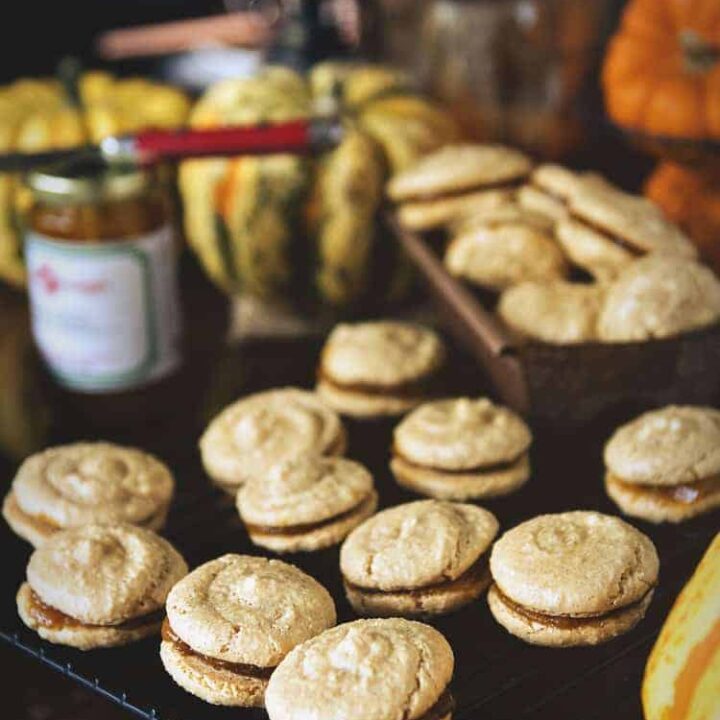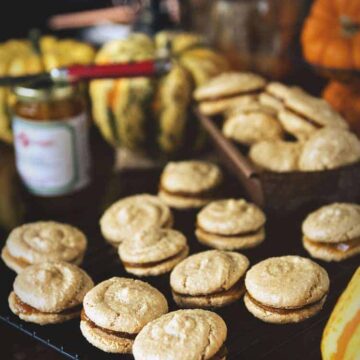 Ingredients
1 1/2

cups

almond meal

1 1/4

cups

powdered sugar

1

teas pumpkin pie spice

3

egg whites

1/2

teas vanilla

1/8

teas salt

1/4

cup

sugar

8

drops yellow food coloring

2

drops red food coloring

1/2

cup

pumpkin butter
Instructions
Arrange 3 large baking sheets with parchment paper and set aside.

In a medium bowl, whisk together the almond meal, powdered sugar and pumpkin pie spice.

In the bowl of your stand mixer, fitted with the whisk attachment, bread the eggs until frothy. Add the granulated sugar, one tablespoon at a time. Beat the egg whites on high until soft peaks form and the tips curl. Stir in the nut mixture and the food coloring.

Gently pour the batter into a piping bag fitted with a large round tip. Pipe the batter into 1 1/2" rounds about an inch apart from one another on the prepared baking trays. Let stand for 30 minutes before baking (the tops will develop a nice shine).

When ready, preheat the oven to 350 degrees F. Bake the cookies 9 to 10 minutes, or until just set. Allow to cool on wire racks for 5 minutes before carefully transferring to racks to cool completely.

When cool, spread pumpkin butter on half of the cookies and top with the rest, pressing ever so gently to seal.
Notes
BHG Special Interest Magazine Fall Baking
Nutritional informations provided as a courtesy and is only an approximatation. Values will changes based on ingredients used.
⭐ Tried this recipe? Rate it ⭐
Help out the next person and give it a star rating below!