It's nearing 9:30 at night and I just got in from today's shift. After we closed the store, I had to run to the market for a few things and decided that a turkey and cheese sandwich would be perfect for supper. It beat the extra protein Speical K out by a land slide. So won't be buying that again.
At the market I always choose the most strategic line. I carefully inspect them all and then without fail always end up in the worst line. Sure, there's not much left to be rung in but something is going to go wrong, lights will flash, and there will be some sort of debate over coupons. Every. Single. Time. Which was exactly what happened tonight, but while this was going on the customer was asking the cashier all sorts of questions about her personal life, education, hours, things like that. And no, this was not flirting at all. It was just some sort of bizarre curiosity.
When it was finally my turn, I told the cashier that she should have totally made up answers. I do. All of the time. I lied to my customers for over a month about my name when I first started, replying with whatever was the most ridiculously over the top feminine name I could think of. I was Sophie, Lulu, and  Candi. I own t-shirts sporting colleges from all over the nation and make it a point to where them to bars. When asked if I went to Princeton I reply yes and start making up stories. (I do not recommending wearing the name of any near by colleges or universities if you want to play this game, it will only end with egg on your face as someone will casually point out that said school does not have a bioengineering program).
I don't do this because I'm a jackass, well ok, there is that. I do it because it breaks the ice and gives the other person something to think about. A break in the monotony. I could be making this whole story up for all you know. 😉

Double Chocolate Gooey Butter Cake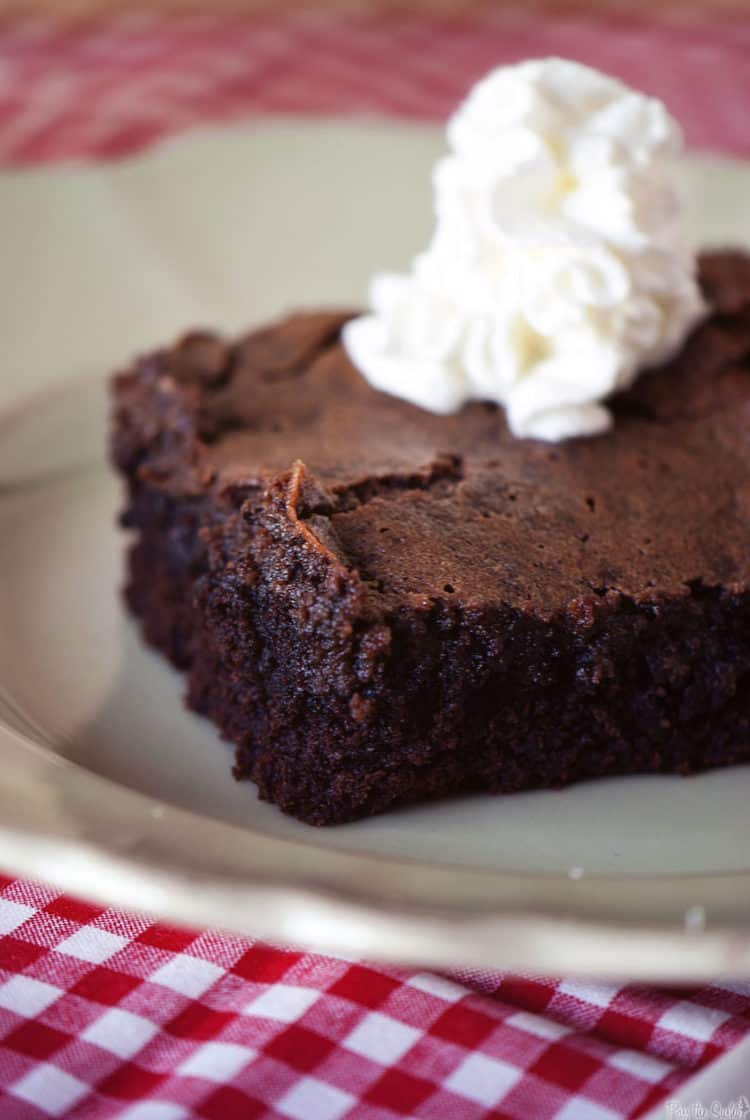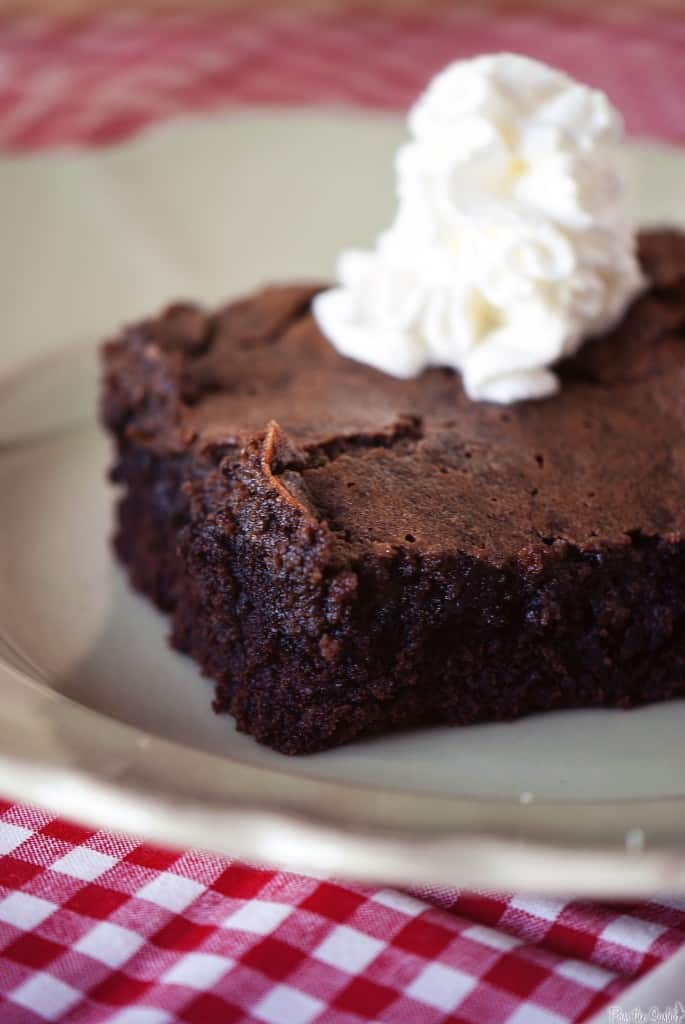 from Food Network Magazine 
Ingredients:
1 18.25-ounce package chocolate cake mix
3 large eggs
1 cup unsalted butter, divided & melted
1 8 oz package cream cheese, at room temperature
3 to 4 tbs unsweetened cocoa powder, to taste
2  cups confectioners' sugar
1 teas vanilla extract
Whipped cream, for topping (optional)
Preparation:
Preheat the oven to 350 degrees F. Grease a 13 x 9 baking pan.
In a large bowl combine the cake mix, one egg, and 1/2 cup melted butter. The batter will be very dry. With a rubber spatula, pat the mixture into the prepared baking pan trying to press and cover the entire surface.
In the bowl of a stand mixer fitted with a paddle attachment or with an old school hand held mixer, beat the cream cheese until smooth, about 3 minutes. Add 2 eggs, cocoa powder and beat until well mixed, scraping down the sides as needed,. Slowly add in the confectioners' sugar, 1/4 cup at a time until all incorporated. Mix in the vanilla and 1/2 remaining butter until just incorporated. Pour batter over the cake mix in the pan.
Bake for 40 to 50 minutes, but keep in mind this is a gooey cake, so don't over bake it. Let it cook 20 minutes on a wire rack before serving with whipped cream.
Alright, so here's my problem with this recipe… Why even bother with the cake mix if we are still wasting money and time mixing other ingredients? Why not just add some flour and baking soda to the party? Even though I pulled this out at exactly 40 minutes (because I love me some underdone salmonella toting awesomness) it was nothing more than a brownie with a bit more effort. I could still taste 'cake mix' which I wasn't aware was a flavor until I realized I cook way too much. Handsome even asked if we had more 'brownies' and I tried to explain that it wasn't… oh yeah, just have more brownies… I will have to try another butter cake to see if I can get something a little more like what my guys used to bring out of Philly.