A few weeks ago I was contacted by Small Planet Foods asking if I would like to sample some of the products from two of their companies. The first,  Cascadian Farm, specializes in healthy and organic breakfast items, while the second, Muir Glen, had some tasty tomato products. Would a girl like to sample? Um…
Lucky for me, I have just recently tried to get into the habit of eating breakfast. It's not something I have enjoyed doing since the toys in my Captain Crunch started to really suck or vanish altogether. From high school on, I don't ever recall stopping for breakfast. First, I don't wake up hungry. It's usually 1 or 2 PM by the time my tummy starts to grumble. Second, I don't care for sugary sweet breakfast foods. They are just too much. So, if I did nibble before noon, it was usually on last nights leftovers of the first piece of meat I could find in the fridge. (Thank God I added the last part to that sentence.)
But, now that we're mountain biking and trying to be more active and healthy, Handsome really thinks I should try to eat breakfast. Does he know how hard its been? I wake up, not hungry, futz around, still not hungry, shower, get ready, nope not hungry…. Finally, before rushing out the door, I shovel some Honey Bunches of Oats down (his cereal of choice) and then spend the rest of the day being extra hungry. What's up with that?
So, to add some variety, I chose some cereals from Cascadian Farm and a box of delicious sounding granola to munch on. Muir Glen also sent me a beautiful sample of 4 of their canned tomato products. (I'll show you what I used those in next week.) I recieved the Multi Grain Squares and Dark Chocolate Almond Granola cereal and the kid in me chose the Chocolate O's™. All have been very tasty. The Multi Grain Squares are very similar to Chex and make me want to have them as a snack mix. The Chocolate O's remind me of Lucky Charms but with chocolate and minus the cardboard charms. And as for the munchalicious granola…
Well, check these babies out.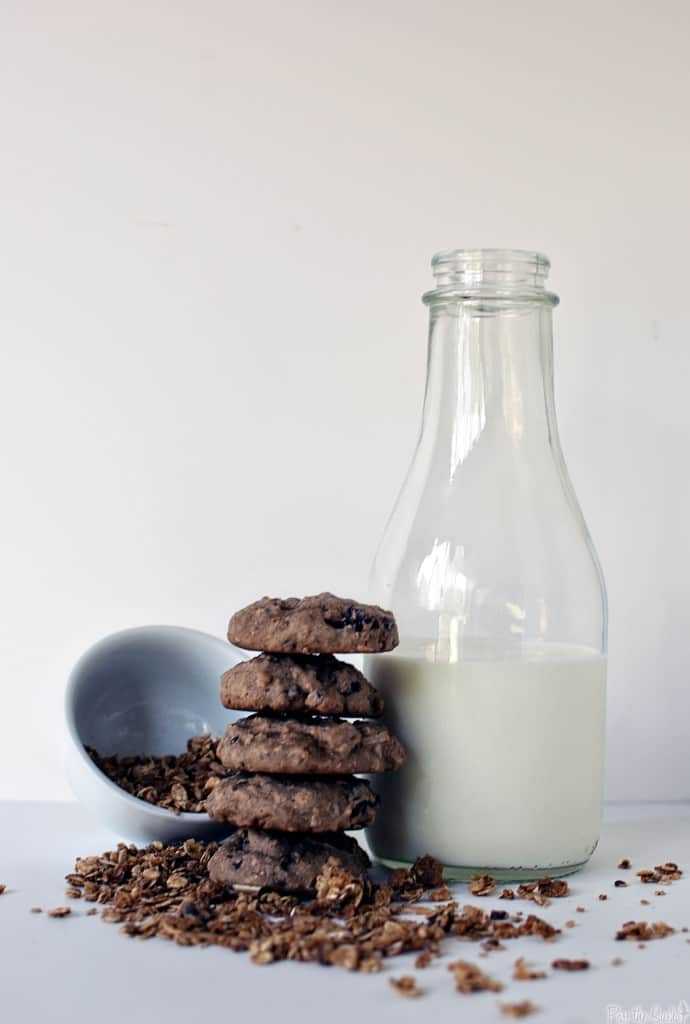 Dark Chocolate Almond Granola Breakfast Cookies
Adapted from Miss Lemonie
Ingredients:
1 cup all purpose flour
1/2 cup whole wheat flour
1/2 tsp salt
1/2 tsp baking soda
1 tsp cinnamon
2 large egg
5 Tbsp melted unsalted butter
2 tsp vanilla extract
3/4 cup packed brown sugar
1 1/2 cups dark chocolate almond granola (or a granola combo of your choice)
1/4 cup dried cherries, chopped
1/4 cup dark chocolate chips
1/4 cup shredded coconut
Preparation:
Preheat your oven to 350F and line a baking sheet with parchment paper.
Sift together the flours, salt, cinnamon and baking soda.
Beat the eggs, one at a time, then add in the melted butter, vanilla and brown sugar. Stir until well combined.
Combine the flower and butter mixtures until well incorporated in three batches. Fold in the remaining ingredients.
Using a small ice cream scoop, divide the dough onto prepared baking sheets. Press on each gently with your fingers.
Bake about 10-12 minutes.
Cool completely on a wire baking rack.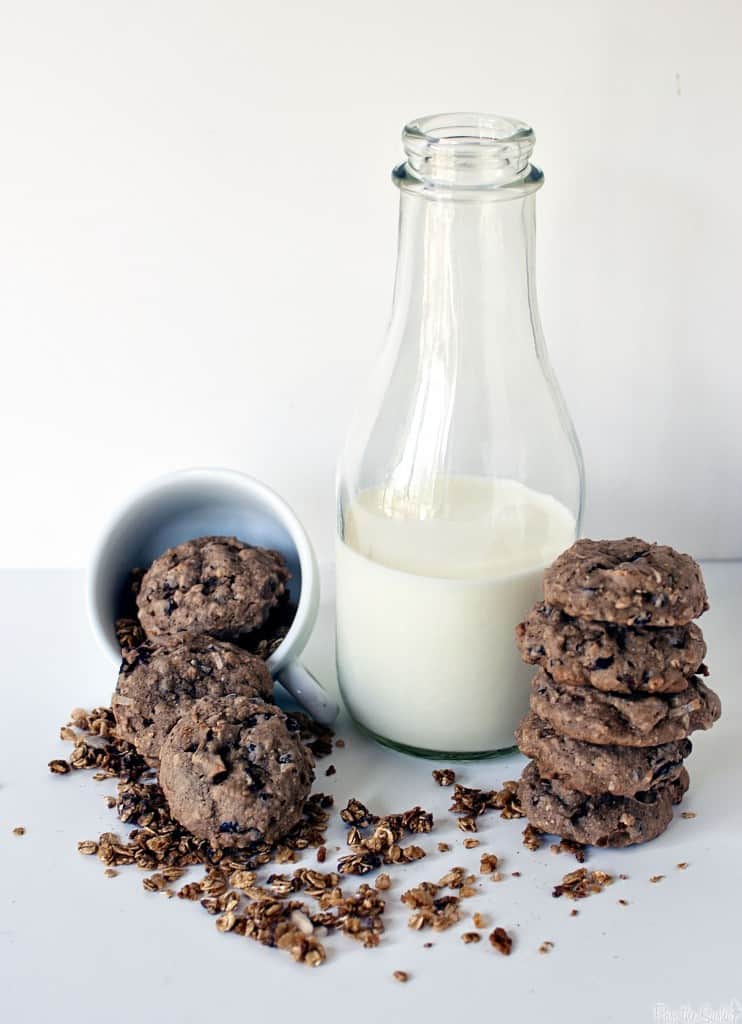 See, I can make eating breakfast manageable. After all, who can turn down a cookie? 😉
Now, who wants to munch on some of these fine products themselves?
Leave a comment here telling me what your favorite childhood cereal was.
Didn't dig on the cereal? Tell me what your favorite breakfast was.   
Earn Extra Points by doing the following:
You do not have to leave an additional comment for each, just tell me in your original comment.
Entries accepted through September 11th at Midnight EST. Winner will be announced on 9/14/11.