You know what I smell? Well besides stuffing, turkeys and brisk leaves in the air… I smell a bunch of secret recipes about to be relieved today. That's right it's Secret Recipe Club* day  and this month I got to be a stealthy little ninja over at Melissa's Cuisine.
Melissa's is a newlywed in her early 20′s spending her free time in the kitchen (minus the newlywed part, I toootally get it

). She cooks because she enjoys it and runs to keep it off (wait, did I pick up mountain biking this year?). And she's got a pup named Champ. We all know the infamous Marble. I'm digging on the similarities here, can you tell?
*What's Secret Recipe Club you fandangled young hipsters with your interwebs and blog hoppers? Only a huge shindig where you are assigned a blog to sneak about, choose a recipe from and post at a specific time on a specific day. You get to be stealthy and discover new blogs. Not a bad deal.
Oh, and I smell some pumpkin too.

Chocolate Chip Pumpkin Muffins
Discovered on Melissa's Cuisine, adapted from A Well Seasoned Life
Ingredients:
2 cups flourFor the muffins:
3/4 cup sugar
1 tbs baking powder
1 teas ground cinnamon
1/2 teas ground nutmeg
1/4 teas salt
1 cup canned pumpkin
1/2 cup butter, melted
2 eggs
3/4 cup chocolate chips (I substituted chocolate covered cranberries)
For the Streusel topping:
2 tbs margarine, cold and diced into small cubes
2 teas brown sugar
2 tbs flour
Preparation:
Preheat oven to 400 degrees F and line with paper liners or grease a muffin tin.
In a small bowl, using a fork or your fingers, combine the ingredients for the streusel topping (butter, brown sugar, and flour) until crumbly and pea sized lumps remain. Set aside.
Make the muffins:
In a bowl combine your dry ingredients, flour, sugar, baking powder, cinnamon, nutmeg, and salt.
In another bowl, whisk together the pumpkin, butter, and eggs until combined. Gently add the dry ingredients until just combined, taking care not to over mix (not over-mixing is the secret to a great muffin). Fold in the chocolate chips.
Using a large ice cream scoop, fill each muffin tin about 2/3 full. Sprinkle with streusel topping and pat each gently. Don't skimp here or you'll be streusel-less when you pull these babies out of the oven and that just makes me sad.
Slide the muffin tin into the oven and bake for 22-25 minutes, or until a toothpick inserted in the center comes out clean.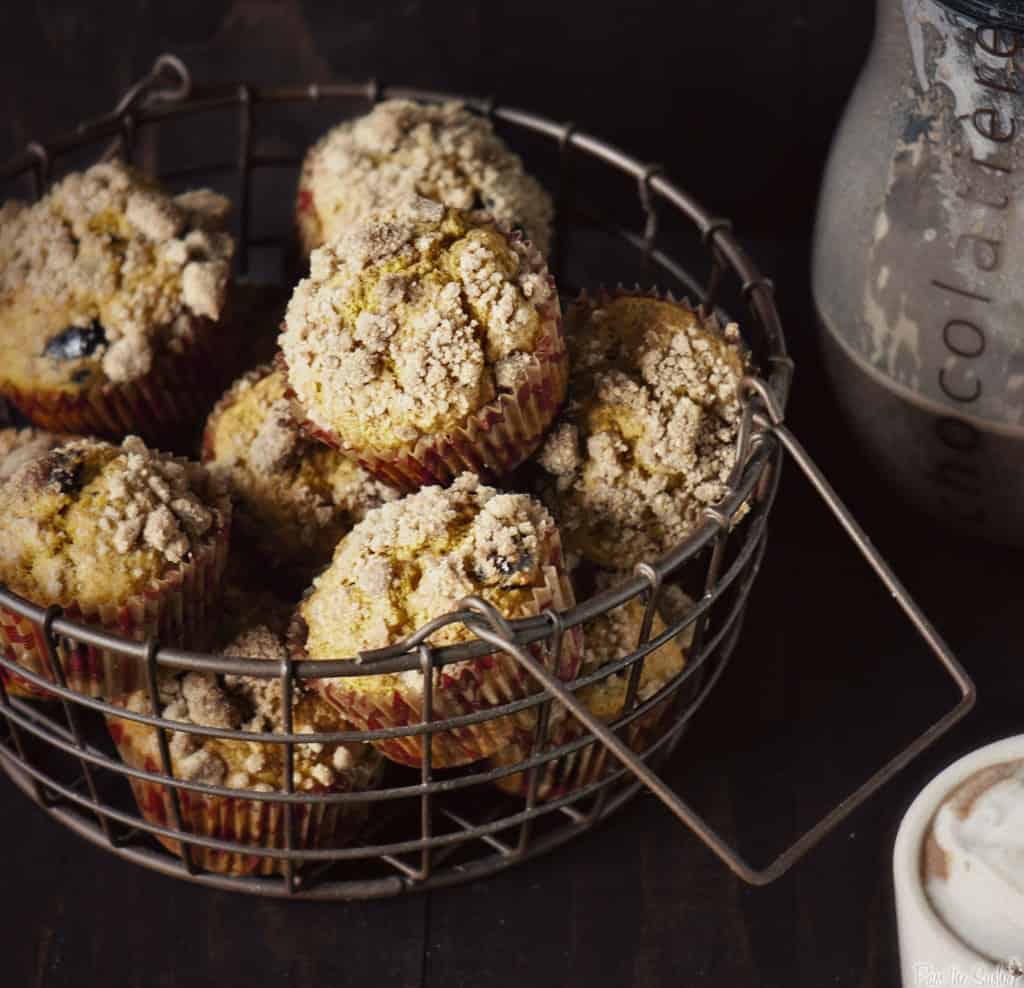 Now, be honest? Can any one else not say muffin without getting Aerosmith stuck in their head? Because it's been there for days for me…. days….