Cajun Sausage Pasta with Chicken – This quick and easy dinner recipe is full of spicy Cajun sausage, juicy pieces of chicken breast, shrimp, and a creamy white sauce, all served over tender pasta.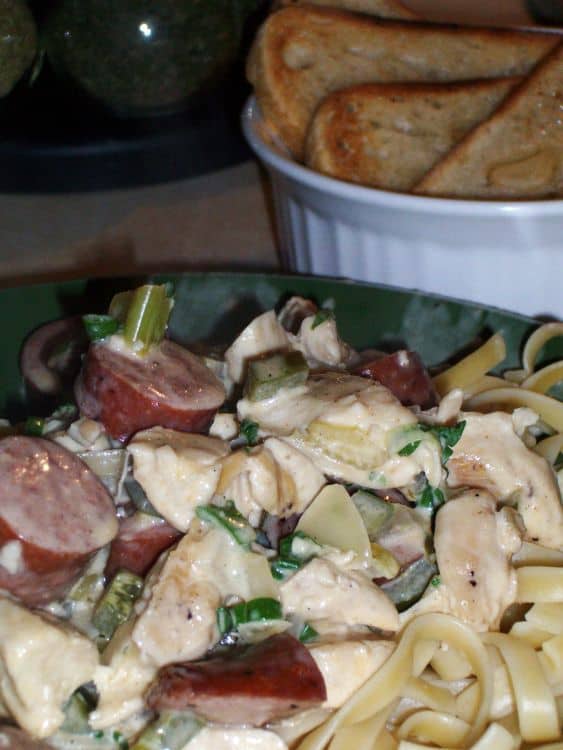 Let me introduce you to my new best friend Cajun Sausage Pasta.
The first meal of the year, and my god, was it good. I have been eyeing up this recipe for a while and finally after my boyfriend put a hard days work in ripping out and redoing his own bathroom, I figured a great meal would be a good reward. Cajun sausage pasta with chicken, tweaked from Southern Living. This recipe was as amazing as I had expected it would be. I just warn you, the timing is tricky. I have tried to work some of that out here for you, but bear in mind that this did take a while.
Its rich, loaded with calories and other bad goodness and worth every not weight-watchers bite. If your New Year's resolution involved losing weight, I suggest running a few miles both before and after you enjoy this.
Cajun Sausage Pasta with Chicken
tweaked from Southern Living
Ingredients
1 lb unpeeled, medium-size fresh shrimp
3 cups grilled chopped chicken
1 (12-ounce) package fettuccine
1/2 pound Andouille sausage, chopped (I used Johnsonville New Orleans Style – which is not andouille)
1/2 cup butter or margarine
1 medium onion, chopped
1 small green bell pepper, chopped
4 celery ribs, chopped (about 1 cup)
4 garlic cloves, minced
1/2 teaspoon red pepper flakes
1 1/2 tablespoons salt-free Cajun seasoning
3 tablespoons all-purpose flour
2 cups chicken broth
1 1/2 cups heavy cream
6 ounces pasteurized prepared cheese product, cubed (velveeta)
3/4 cup chopped green onions
1/3 cup grated Parmesan cheese
3 tablespoons chopped fresh parsley
Preparation
Peel shrimp, and devein, if desired. Set aside.
Prepare fettuccine according to package directions; drain pasta, and set aside.
Cook sausage in a large Dutch oven over medium heat 10 minutes or until browned; remove sausage, and drain, reserving 1 tablespoon drippings in Dutch oven. Set sausage aside.
Add onion and next 3 ingredients; cook, stirring constantly, over medium heat 10 minutes. Stir in Cajun seasoning and flour. Cook over medium heat, 1 minute, stirring constantly. Gradually stir in chicken broth. Bring to a boil over medium-high heat, stirring occasionally. Boil 1 minute. Reduce heat to medium-low, and stir in heavy cream; cook over medium-low heat 8 minutes or until mixture simmers. Add pasteurized cheese cubes, sausage, and chicken, stirring until cheese melts.Melt butter in drippings in Dutch oven over medium heat. Add shrimp, and cook 5 minutes or just until shrimp turn pink. Remove shrimp, and keep warm.
Stir in chopped green onions, Parmesan cheese, and chopped fresh parsley. Serve over hot cooked fettuccine
Ok, so my notes for this recipe are that the timing is waaaay off. You could wait until you add the chicken broth to cook the fettuccine and it would be much nicer. According to SL this recipe takes 40 minutes top to bottom. It didn't. It may next time now that I have experienced it, but the first time it took about an hour and a half. It may also be my stove top, but I had to turn the heat to medium to return anything to a simmer and it took about 15 minutes, not 8. There is also enough left over (maybe) to fill a casserole dish for freezing and enjoying later. I will try to remember to make a note about how that goes.
All in all, this Cajun sausage pasta is a recipe that is 100% worth making.