So this is how Sunrooms America, INC destroyed my house.
In March of 2007 my parents chose what they thought was a reputable professional company to add a new sun room room to their house. The company was Sunrooms America, INC located in New Jersey. They had a nice folder with pretty pictures and built TEMO sun rooms. In May the construction started. They were to demolish the original room and build a new one. They tore down the first one, no problem. They then drilled huge holes into the ground where support beams were going to go. There were 6 holes, one right in front of the back door, left uncovered, several feet deep and about a foot and a half wide. As an adult, I know not to walk into the hole, my parents two small dogs, not so much. We covered the holes. We should have thought more about these holes though, because my parents were supposed to get a concrete base to the room, not support beams from holes in the ground.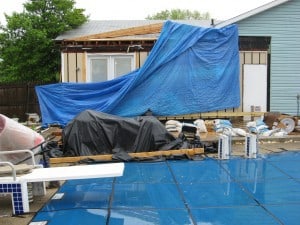 They then started building the new room... This is where things get really bad. Sunrooms America, INC had to connect the new room to the original house, They removed a portion of the roof over our kitchen and covered the house for the weekend. By covered the house, I mean, what you see to the left. It then rained. A lot. In our kitchen.
We contacted Sunrooms America, INC and by Sunday we saw someone who put the tarp back up. It feel again less then three hours later....
For three months we took water in our kitchen as they sloppily and on what seemed to be their own schedule built the sun room.  The sun room then leaked. The kitchen still leaked. The whole thing was wrong. We took rain, and I mean RAIN in our kitchen 18 times total. The total project was supposed to take 11 weeks from start to finish. They didn't leave til August some time. We were unable to use our pool or backyard all summer and boy did we have a clean up job when they left.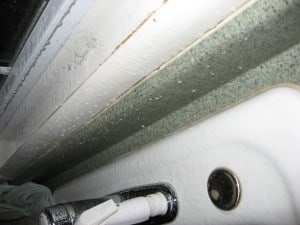 Sunrooms America, INC left tiny metal scraps in our backyard that our dogs could step on, live wires dangling in water, took a wet dry vac that they never returned, left piles of trash all over our yard, ruined our kitchen, and built an overall very unimpressive unfinished room for the tune of almost $50,000.
This is where Jeff Tyrie, a very personable contractor with years of experience, comes in. He was recommended to us from a friend of the family. He walked in and took over, not the sun room, as that was already paid for by my parents and he could do nothing but rip it down and start again (we'd love that now, but we have to pay off the first one still), but to the damaged and poorly constructed roof and soaked kitchen. My parents had a functional handsome kitchen with solid wood cabinets. These were all ruined and insurance wasn't going to cover it all. I bet your thinking Sunrooms America, INC would own their mistake and take some blame, cover some of the damages. Nope. Good luck even getting a hold of them.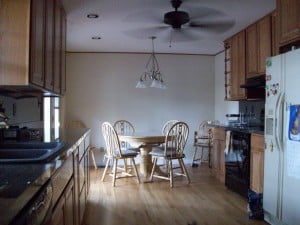 Jeff fought with the insurance company on our behalf (as the kitchen had taken mold and needed to be replaced), tested air quality (since we had taken so much water and the chances of mold in the rest of the house were high), ripped out the original kitchen, redid dry wall, redid the floors and ceiling, ripped off the roof Sunrooms America, INC ruined and rebuilt that (nothing has leaked since by the way!!!). He and his team, built us a new beautiful kitchen and solved so many of the problems with the sun room job without hesitation. They were incredibly professional and hard working. They came when we needed them, immediately, and not on their own schedule. They cleaned up every night, not leaving piles of trash and dangerous things for the pets, like Sunrooms America, INC did. We owe him a world of thanks and will highly recommend him to anyone that needs a contractor for any job.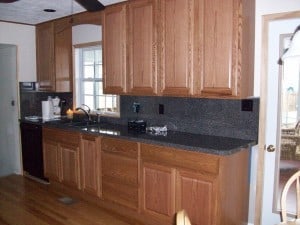 We regret not knowing him before this whole project started because for the amount of money it cost for a the shabby job Sunrooms America, INC did, Jeff and his crew could have built an amazing room.  In the future, we have his number. 🙂
Next time, I wont start my cooking blog in the middle of kitchen construction. It makes it had to cook. I promise in the new year to work on posting much more as we only need one more light switch and our kitchen and sun room are complete.