Around here, we don't just grill great burgers – we celebrate them!
[one-third first] Grill em, smoke em, pan sear and broil them! Any way you do it – enjoy the action packed flame kissed flavor combo that is the burger!
Grind your own meat – mix up the meat and fat content
Don't over work the patty. It makes for a hockey puck.
Always pre-heat your cook surface
Arrange toppings ahead of time[end-column][one-third]Featured Burger: Pimento Sliders
Cheesy sauce over bite sized sirloin patties.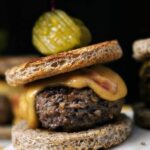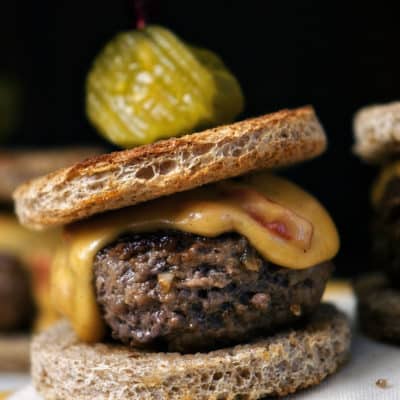 [end-column][one-third]Want to join the burger of the month club?
Well, you could start by building a burger shrine stacked high with charcoal and meat grinding attachments. Or you could just whip up your favorite burger recipe and email me some pics. I would love to not be the only member of the burger club, it makes surprise parties at the office really tough. You're recipe and pics will be shared on Facebook and Pass the Sushi.
Meatatarians unite! [end-column]
---
Get in on the flame kissed action – all year long!
List of burger recipes
---
[pointelleslider ID='2′]
---
More meat-tastic recipes here!
See more burger, sandwich, and wrap recipes from Pass the Sushi be clicking here.