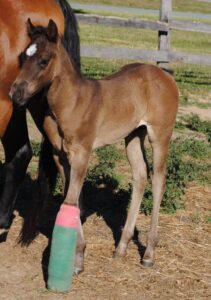 I wore a white shirt today. I should have known better…
To sum up my weekend – I didn't fall off a horse, the BF"s dog LOVES fireworks, and there was no blood shed or tears. Skim down to the recipe if you don't feel like reading the elongated version of the note posted above.
This weekend my family went horseback riding. It was actually a lot of fun and the first family activity that wasn't a BBQ that I can remember. I had only been on a horse once before as a small child at day camp so this was a rather new experience for me. I think I did ok? No one yelled at me, I didn't fall off (neither did anyone else) and I was both able to get on and off without a ladder – I'll take it as a win. It's something I can see doing again.

They had the most adorable baby hanging out (not that all of the horses weren't really pretty). His leg isn't doing so well so they are keeping a watchful eye on him.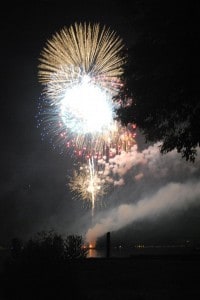 Later that night, there were fireworks on the North East river with both sets of parents and that didn't end in mortal combat or anything even remotly crazy. Actually, I think it went rather well. My parents had a good time at least. Then there were more fireworks the next night after a hot day at the store's 2nd annual Flea Market and Daddy's BBQ (thanks Dad, I want a smoker now). We pulled some bottle rockets out and let the dog try to chase down flaming sticks of danger. Fortunately, he can't jump very high.
Ina Garten's Easy Cheese Danish
Ingredients
8 ounces cream cheese, at room temperature
1/3 cup sugar
2 extra-large egg yolks, at room temperature
2 tablespoons ricotta cheese
1 teaspoon pure vanilla extract
1/4 teaspoon kosher salt
1 tablespoon grated lemon zest (2 lemons)
2 sheets (1 box) frozen puff pastry, defrosted
1 egg beaten with 1 tablespoon water, for egg wash
Directions
Preheat the oven to 400 degrees F. Line a sheet pan with parchment paper.
Place the cream cheese and sugar in the bowl of an electric mixer fitted with a paddle attachment and cream them together on low speed until smooth. With the mixer still on low, add the egg yolks, ricotta, vanilla, salt, and lemon zest and mix until just combined. Don't whip!

Unfold 1 sheet of puff pastry onto a lightly floured board and roll it slightly with a floured rolling pin until it's a 10 by 10-inch square. Cut the sheet into quarters with a sharp knife. Place a heaping tablespoon of cheese filling into the middle of each of the 4 squares. Brush the border of each pastry with egg wash and fold 2 opposite corners to the center, brushing and overlapping the corners of each pastry so they firmly stick together. Brush the top of the pastries with egg wash. Place the pastries on the prepared sheet pan. Repeat with the second sheet of puff pastry and refrigerate the filled Danish for 15 minutes.
Bake the pastries for about 20 minutes, rotating the pan once during baking, until puffed and brown. Serve warm.
This was my first Ina Garten recipe and I was both shocked and disappointed that several effeminate men didn't casually show up with fine wine selections or to create ambiance while I cooked. I made these because someone is repeatedly lured in by the Entamens 2 for $5 sale at the entrance of our local grocery store. They did hold up to their namesake – they were very easy to make. The egg wash gives the pastry a great color. It's a flaky, light treat, yet, the filling still makes it seem rich and decadent without bogging it down. A little sugar glaze on top really sets these off.
What I'd Do Different:
Less lemon. 1 tbs was very lemon-y for my BF's and my taste. It was nice, but personally, I would do 1 teas.
More filling! The recipe calls for one heaping tbs, but there were leftovers and had I known that I would have packed those suckers to the brim. It really is the best part, so why not?