Deep fried pot stickers? Yes. This twist on a classic Asian appetizer is deep fried, not steamed, as pot stickers are traditionally made. But they are equally as delicious!
Things may look all peachy keen when you come to visit Pass the Sushi, but my kitchen is like everyone else's and some days, things just don't work out.
Those days are always when we have company. Of course, witnesses. And always, it seems, when I'm serving pot stickers.
Go figure.
When I make these for Handsome and I, they are perfect. Wonderful little steamed pockets of ginger spiced pork. When my parents are headed over and I need to put something together in a pinch – they all froze together and wont come apart. When Handsome's cousin is coming over and all he knows about me is that I write about food – they disintegrate in the pan.
Trust me, there's no take out place that serves redemption.
What we have figured out is that it's very hard to know what type of dough you've purchased when it's all in another language you don't read ( I get my pot sticker wrappers from an Asian market – and they have added a few different kinds… apparently not the kind I need) and if you are going to make larger batches to save for later – freeze them first on a baking sheet before shoving them in a bag together. Duh.
But because I'm a sore loser and hate to admit defeat, I did figure out that the batch that was the wrong type of wrapper for pan frying and steaming was perfect for deep frying. What isn't perfect for deep frying?… oh a Peep.
So in an attempt to redeem myself, with no witnesses present, I give you deep fried pot stickers.
Deep Fried Pot Stickers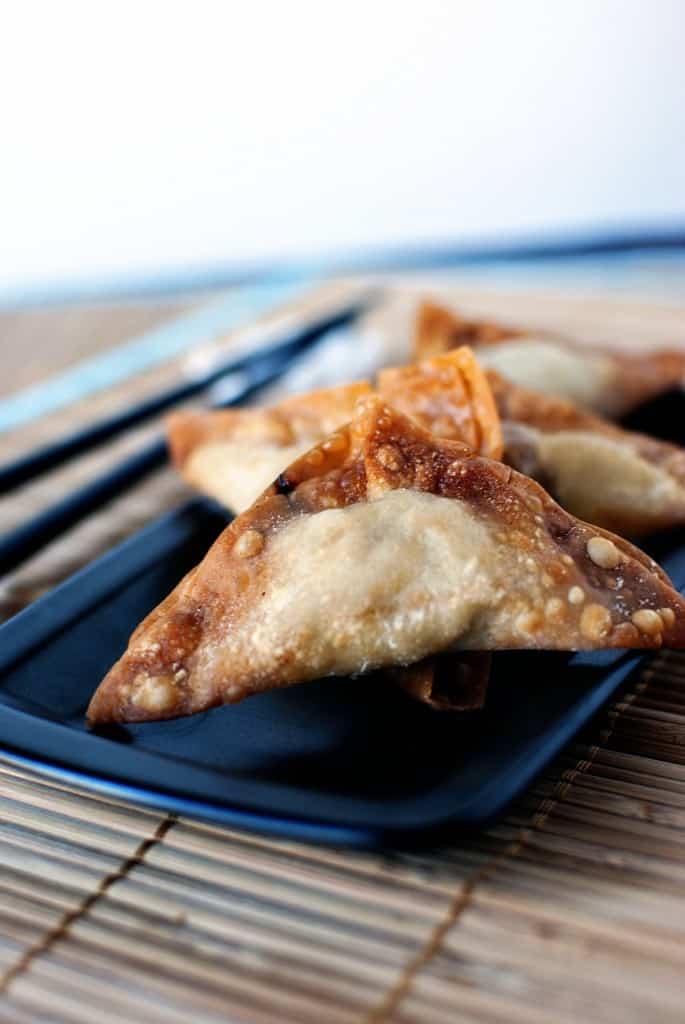 Inspired by hope and pure determination
Ingredients:
1 lb ground pork
1 1/2 tbs ginger, minced
1 clove garlic, minced
4 scallions, diced
1 cup shredded cabbage
1 carrot, grated
1 tbs hoisin sauce
1 teas chili sauce
1 teas toasted sesame oil
1 teas soy sauce
S&P
1 pack wrappers (wonton will do for frying)
Preparation:
Combine pork through salt and pepper in a food processor and blitz until combined. In a small skillet fry a bite sized piece to check your seasonings and tweak to your tastes.
Preheat fryer with canola oil to 350 degrees F.
On a work surface place a small cup of water and lay out several wrappers. Use a small melon scoop or your hands to place about a teas in each wrapper (filling portion will depend on wrapper size).  With clean hands, dip fingers in water and moisten the edges of the wrappers. Pinch each wrapper shut. Repeat until you have run out of wrappers or filling.
You can not freeze some of these for later if you like. Line onto baking sheets and freeze for 20 minutes before storing in a container.
Working in batches fry wontons for 3 to 5 minutes. Place on paper towel lined rack to dry.
Serve with rice and enjoy your redemption.