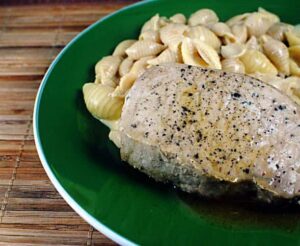 I often don't get off of work until 8, meaning dinner may not hit the table until 9 or later, so thin cut pork chops are my go to for nights when I want something good. I love pork chops. They often look and feel fancy and yet are really quick and easy to prepare, not to mention, packed with flavor (as long as you don't treat them like your great aunt Edna used to, cooked beyond recognition).
Honey and Spice-Glazed Pork Chops
Preparation:
Combine first 5 ingredients in a bowl.
Seriously, that easy people! We ate this with Handsome's weekly requirement of mac and cheese for a down home, stick to your ribs late night meal.
Heat a large nonstick skillet coated with cooking spray over medium-high heat. Sprinkle pork with salt and pepper; cook 2 minutes on each side or until browned. Reduce heat to medium-low; add honey mixture. Cook 10 minutes or until done, turning pork once.