This copycat Olive Garden chicken scampi recipe is perfect for a quick weeknight meal. It tastes great, and it's less expensive to make it at home.
At first this whole cooking dinner while the BF was in class thing was kinda fun. I didn't have to think about it as much nor did I have to waste time in the kitchen when we could be hanging out. It gave me lots and lots of free time.
Now that were in the thick of it though, eating dinner alone sucks. Sure, that's selfish of me, but it's how I feel at the moment. The stress of the school work isn't making anything fun either. I feel absolutely horrible for saying so, but I want some me time with the BF without having to stress over anything. I know that's not the right attitude to have, and I'll support his school work before anything else. But this semester sucks monkey balls (the big green kind you find on trees).
Copycat Olive Garden Chicken Scampi
Ingredients:
WHITE SAUCE
1 tablespoon butter
2 tablespoons flour
3/4 cup milk, hot
SCAMPI SAUCE
3 tablespoons butter
2 tablespoons garlic, crushed
1/2 teaspoon crushed red pepper flakes
1 tablespoon dried cilantro
2 teaspoons italian seasoning
1 to taste black pepper
3/4 cup white wine
1 cup chicken broth
REMAINING INGREDIENTS
1/2 lb angel hair pasta, cooked and drained
2 bell peppers, thinly sliced
1 red onions, thinly sliced
2 chicken breasts, sliced
1 to taste olive oil
Directions:
For white sauce:
Heat 1 tablespoons butter in sauce pan, add 2 tablespoons flour and cook for 2 minutes on med. heat. heat stirring constantly. slowly add 3/4 cup hot milk (hot so it won't get lumpy). Set aside. (Make sure that the white sauce is hot when adding to the scampi sauce).
For scampi sauce:
Heat butter over low heat. add the garlic, Italian seasoning, crushed red pepper and black pepper. cook for about 2 minutes on low heat. add the wine and chicken broth. stir until combined. (I usually cook mine for about 30-40 minutes). add 1/4 cup white sauce and cook till slightly thickened.
In a large skillet, saute chicken in a little olive till nearly done. add the peppers and onions, saute till chicken is done. Add the sauce. Saute until everything is warmed. Serve over pasta.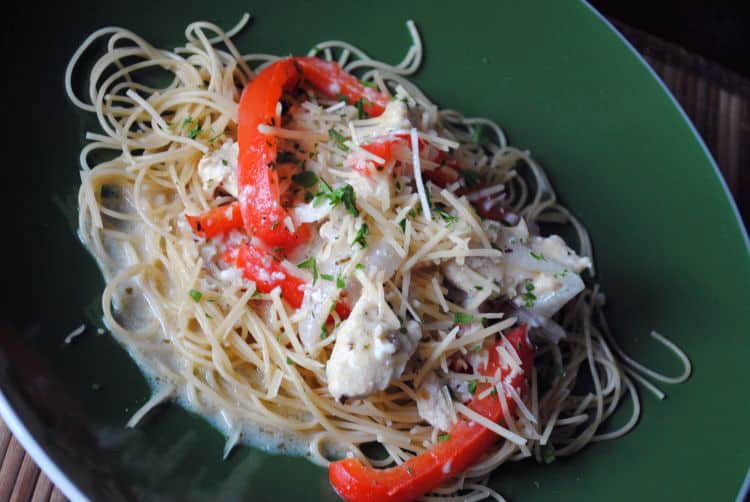 However, I don't feel like a jerk while my dinner gets cold, as I'm trying to get a good pic.
If this is a copycat of an Olive Garden recipe to the T, I'd be shocked. It isn't heavy or overly cheesy. Actually, if I were to make it in the future I would probably make the white sauce into a cheese sauce of some sort just to add a bit more to it. I did add fresh parsley and lemon. I can't imagine a scampi without lemon…