Family means no one gets left behind or forgotten.
How to watch your numbers drop like a lead balloon – don't update in 4 days.
Sorry, I got lost during an incredible spelunking trip with my Great Uncle Ernie who is an avid outdoors man. It resulted in a 3 day lack of technology or indoor plumbing and boy, was it hot. Uncle Ernie really still has it in him too – I mean 74 and hopping on the back of that grizzly to take back our one Coleman burner – amazing. Not sure that the bear could have figured out how to use it anyway.  Where I don't suggest getting lost in the wilderness for days on end, I do recommend you to never leave home with out a good old fashioned compass, a few bottles of fresh water and a roll of duct tape. Who knows when you may need it.
Needless to say – tonight's dinner was just some of my favorite comfort food.
Tacos –

Mr. Ortega, will you marry me?

1 lb ground beef
1/2 onion, chopped
1 red pepper, chopped
2 handfuls of baby spinach, chopped
1 packet Ortega Taco Seasoning
1 packet Ortega Shells
1 cup shredded cheddar or Mexican cheese blend
Taco Sauce & Sour Cream tailored to your pallet

Im not brand pushing here or anything but in my mind – there is no other at home quick fix taco brand.

Preheat over to 350°

Brown ground beef in a skillet, drain and follow the instructions on the little packet o' magic (add 1/3 cup water and contents of packet). While all that's getting to know each other, chop your pepper, onion and spinach, set on a a plate so people can top their tacos as they like. Place your shells in the oven for a few minutes to heat through and serve.

I am a cheese-mean-onion-pepper-sauce-cheese-lettuce on a hard shell person myself. Your guaranteed those last few extra bites of heaven that fell to the plate when the shell breaks apart and ruins your creation.
Sorry for the freebie guys, I just haven't really been in the kitchen this week and tacos really are my comfort food.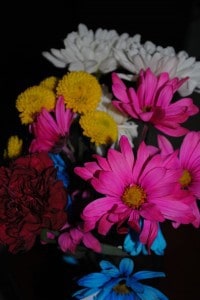 On a side note I just want to mention that I do have the most amazing Daddy in the whole world. He truly did ride in all 'white knight and stallion' the other day to save me and it was the most thoughtful and amazing thing he has ever done. I am so fortunate and lucky to have a father I am close with who I treasure and I know treasures me. I know no matter what everything will be ok.
I don't know what tomorrow holds for me but I do know that I have some awesome people in my corner and I will never be alone. We aren't always peaches and cream – but were true and real through thick and thin. I hope they all know I love them very much and they mean the world to me.
"This is my family. I found it, all on my own. Is little, and broken, but still good. Yeah, still good."
~Stitch from Disney's Lilo and Stitch