German chocolate cake is a rich, decadent, layered chocolate cake that's filled and topped with a sweet coconut-pecan frosting. To. die. for.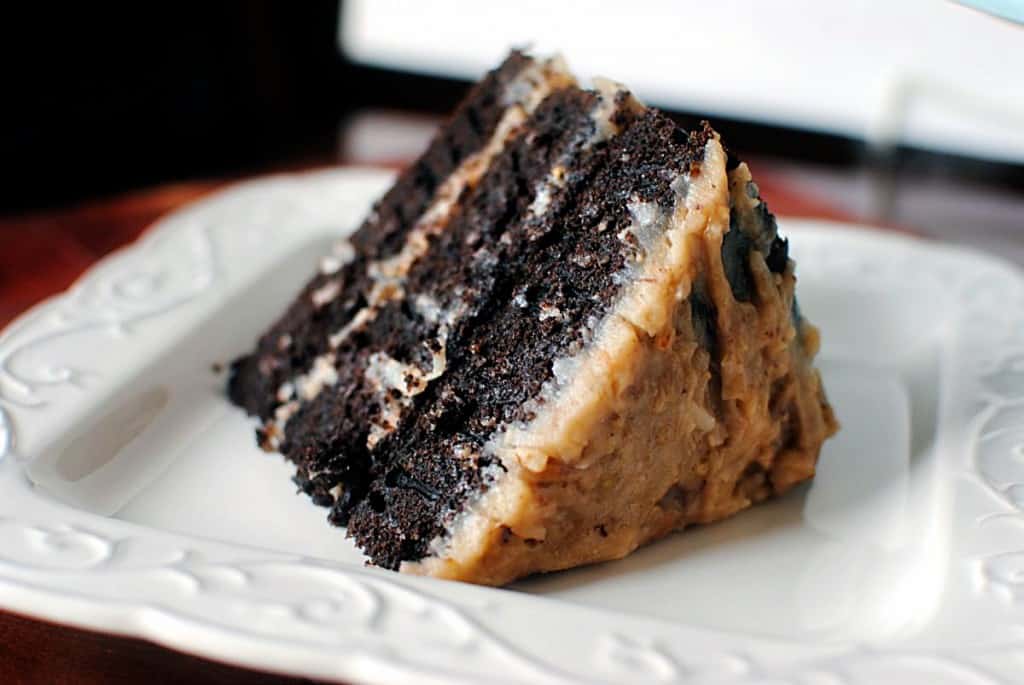 Excuse my language, but my cat is a dick.
Seriously.
You think I'm joking, exaggerating a little, or maybe just venting but it's true Maddox is a dick (and he knows it). In the mornings, if he doesn't get fed on his schedule he starts to do things that are just unreasonable. He'll look right at you and knock over your drink. He'll chew on your mouse cord – or if you have no mouse, your power cord. Today, he chewed right through my Ipod cord. He demands attention, and if you don't give it to him at 4AM when he thinks you are supposed to be awake he will find that plastic shopping bag and chew on it or climb the headboard and land on your face.
I know you think he's just being a cat and I know there is no way I can show you his personality via the internet but I promise, my cat is a flaming butt head when he wants to be.
On that note, I love him and am often to amused by his trouble making to scold him properly (which is probably why he acts the way he does).
What does this have to do with German chocolate cake? Nothing (I just wanted to rant) other than his sister, Kiori (my other cat) decided that she was going to enjoy the slice I had rationed for myself and got caught with a face full of icing…. again.
German Chocolate Cake
From Baked: New Frontiers in Baking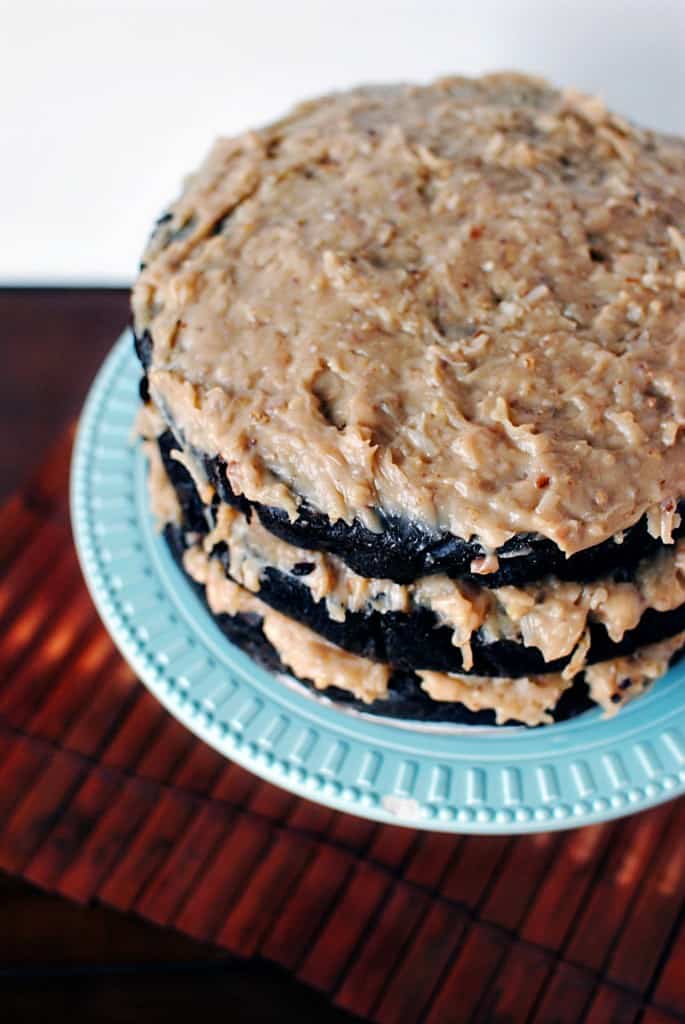 Ingredients:
For the German Chocolate Cake Layers:
2 1/4 cups cake flour
3/4 cup dark, unsweetened cocoa powder
1 1/2 teas baking powder
1/2 teas baking soda
3/4 teas salt
1 cup hot coffee
1 cup buttermilk
1 1/4 cups (2 1/2 sticks) unsalted butter, softened
2 1/4 cups sugar
5 large eggs
1 1/2 teas pure vanilla extract
4 ounces dark chocolate, melted and cooled
For the Coconut Pecan filling:
1 1/3 cups shredded sweetened coconut
1 cup sugar
1/2 cup (1 stick) unsalted butter
1 cup evaporated milk
1 teas pure vanilla extract
3 large egg yolks
1 1/3 cup toasted pecans, chopped coarsely
Preparation:
Make the German Chocolate Cake Layers:
Preheat the oven to 350 degrees F. Butter three 8-inch cake pans, line the bottoms with parchment paper, and butter the parchment. Dish with flour, and knock out the excess flour.
Sift the cake flour, cocoa powder, baking powder, baking soda, and salt into a medium mixing bowl. In a small bowl, wish together the coffee and buttermilk.
In the bowl of an electric mixer fitted with the paddle attachment, beat the butter and sugar until fluffy. Scrape down the bowl and add the eggs, one at a time, beating until each is incorporated. Add the vanilla and beat to incorporate. The mixture will look light and fluffy.
Add the flour mixture, alternating with the coffee/buttermilk mixture, in three additions, beginning and ending with the flour mixture. Remove the bowl from the mixer and fold in the melted chocolate.
Divide the batter among the prepared pans and smooth the tops. Bake for 30 to 35 minutes, rotating the pans halfway through the baking time, until a toothpick inserted in the center of each cake comes out clean. Transfer the cakes to a wire rack and let cool for 20 minutes. Invert the cakes onto the rack and remove the pans and let cool completely. Remove the parchment.
Make the Coconut Pecan Filling:
Preheat the oven to 300 degrees F. Line a baking sheet with parchment paper.
Spread half of the coconut evenly across the pan and place in the oven for 5 minutes or until the coconut begins to brown. Remove from the oven and cool on a wire rack.
In a large saucepan, stir together the sugar, butter, evaporated milk, vanilla, and egg yolks. Bring the mixture to a boil, stirring constantly. After the mixture begins to boil and thicken, remove from heat and stir in the toasted coconut, regular coconut, and pecans.
Place the pan over an ice bath (a large bowl fitted with ice) and stir the mixture until cooled.
Assemble the Cake:
Place on cake layer on a serving platter. Trim the top to create a flat surface and evenly spread one third of the filling on top. Add the next layer, trim and frost with one third of the filling, then add the third layer. Trip the top and frost with remaining filling.
The cake will keep in an airtight container, at room temperature, for up to 2 days.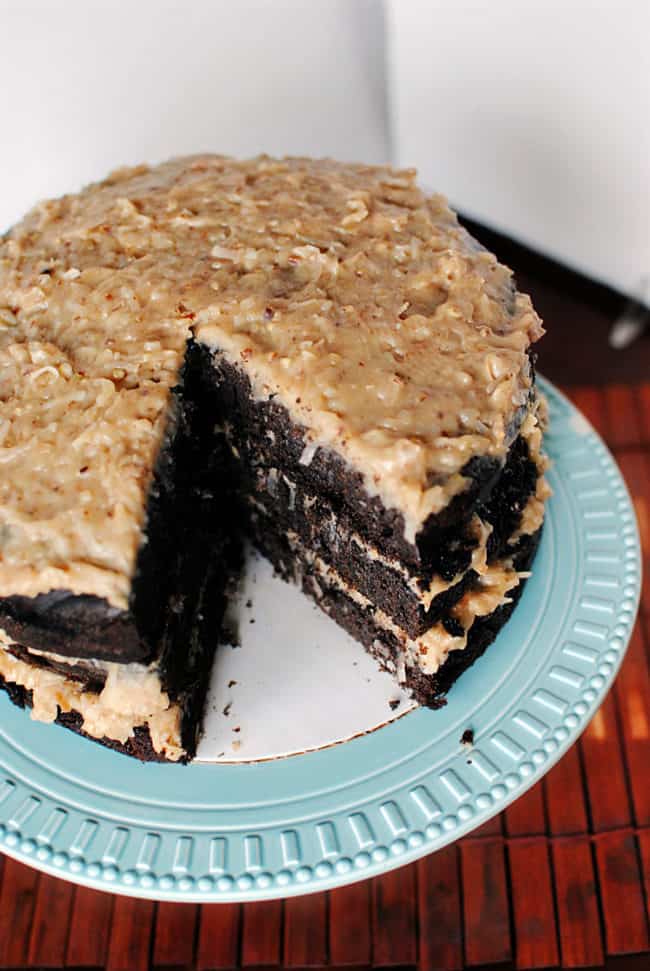 My cat enjoyed this German chocolate cake, and so did the people that received samples long before she got her chops on it.
The chocolate cakes were rather rich and moist (and in my mind would stand as a good base for any type of layered chocolate cake). The pecan coconut filling/frosting was amazing. Sweet, sticky and delicious (for those of you as immature as me, giggle freely).
This cake was amazing, but maybe I am missing something. What makes a German chocolate cake a German chocolate cake?