Brace yourselves. It's the last week of grill themed action packed calorie loaded fat kid Mondays here at Pass the Sushi. I know, I cried a little myself. But don't worry, there's a weekly online counseling program and an all new theme for Monday taking over that is just as good. Let's be realistic, nothing is as good as a flame kissed perfectly seasoned burger, but it's just about as good.
Summer Grilling Round Up:
My grill isn't shut down forever, and I still have several recipes to share with you, it's just the last Flame On Monday for a while.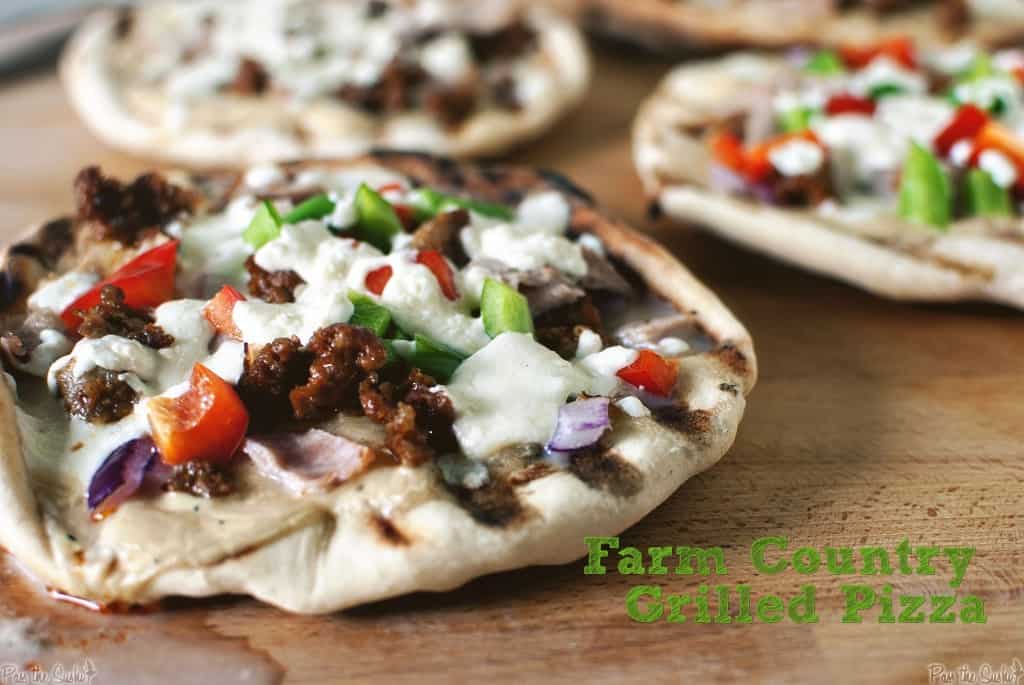 Farm Country Grilled Pizza
from BHG Special Interest Publications Tailgating
Ingredients:
1 package active dry yeast
1 1/4 teas sugar
1 cup warm water (105 – 115 degrees F)
1/4 cup olive oil
3 cups flour
1 teas salt
1/4 teas freshly ground black pepper
12 oz bulk pork sausage, cooked and crumbled into small pieces
1 cup Alfredo pasta sauce
4 oz thinly sliced cooked ham, cut into strips
4 oz sliced bacon, cooked to crispy, drained, and crumbled
3/4 cup chopped red and green pepper
1/2 cup chopped red onion
2 cups shredded mozzarella cheese
Nonstick cooking spray
Preparation:
In a small bowl, sprinkle the yeast and 1/4 teas of sugar of the warm water. Let stand about 5 minutes or until yeast has become bubbly. Stir in 2 tbs of oil.
In a food processor combine flour, salt, pepper, remaining sugar. Cover and pulse several times until just combined. With the processor running, using the feed tube, slowly pour in the yeast mixture in a steady stream. Process for 1 minute. Transfer dough to a lightly greased bowl, cover with plastic wrap and let rest until doubled in size, about 45 minutes.
Preheat grill to medium high heat.
Punch dough down and turn out onto a clean, lightly floured work surface. Divide dough into 4 portions. Cover and let rest for 15 minutes.
Pat or roll each portion into an 8″ circle. Place on a flat baking sheet to transport to grill. Gather all ingredients and cooking spray and head to your grill.
Clean grill grate and using caution spray with cooking spray until the grill is nice and shiny. Reduce the heat to medium-low.
Brush one side of rolled out dough portions with remaining oil and place, oil side down, onto the hot grill surface and cook until light brown, firm, and grill marks start to appear (2-4 minutes). Flip, spoon Alfredo sauce onto each pizza, sprinkle on toppings and cover with cheese. Close lid and cook 4-6 minutes longer until crusts are crisp and cheese is melted.
Cut each pizza into 4 slices and serve.