We're meat eaters in this household – I'm pretty  sure that's obvious to any of my regular readers. I'll pretty much experiment with grilling, smoking, grinding, brining and roasting any piece of meat but when it comes to steak we are simple. We like our thick cut bone in rib eye grilled to perfection, plain and simple, because really, it doesn't need anything else
So when it comes to sauce on a steak, I'm rather clueless. I always thought sauce was kind of a way to cover up some other flaw in the meal. It wasn't until recently that I even considered buying a cut other than rib eye and experimenting with sauces. Fortunately, we were given some nice venison sirloins that I wanted to use up. I figured that was the perfect start to a little experimentation…


Chimichurri Steaks
from FoodNetwork.com
Ingredients:
1 cup lightly packed chopped parsley (ideally, flat leaf "Italian" parsley)
3 to 5 cloves garlic, minced
1 teaspoon salt
1/2 teaspoon freshly ground pepper
1/2 teaspoon chili pepper flakes
2 tablespoons fresh oregano leaves (optional)
2 tablespoons shallot or onion, minced
3/4 cup vegetable or olive oil
3 tablespoons sherry wine vinegar, or red wine vinegar
3 tablespoons lemon juice
2 pounds sirloin
Preparation:
Preheat a grill.
Place all chimichurri sauce ingredients in a blender or food processor and pulse until well chopped, but not pureed. Reserve.
Dissolve cayenne pepper and salt in 1 cup hot water. Transfer to a squeeze container.
Place the steak directly over a hot grill, baste with the chimichurri grilling sauce, and grill until the outer portion of the meat reaches the desired degree of doneness. Remove the steak from the grill and slice long strips from the outer edges of the steak. Return the remaining steak to the grill, baste, and grill until more of the steak is cooked. Remove and repeat the slicing and serving procedure until steak is consumed. For extra spicy steak, baste 2 or 3 additional times with the cayenne pepper mixture during grilling process. Spoon chimichurri sauce over steak.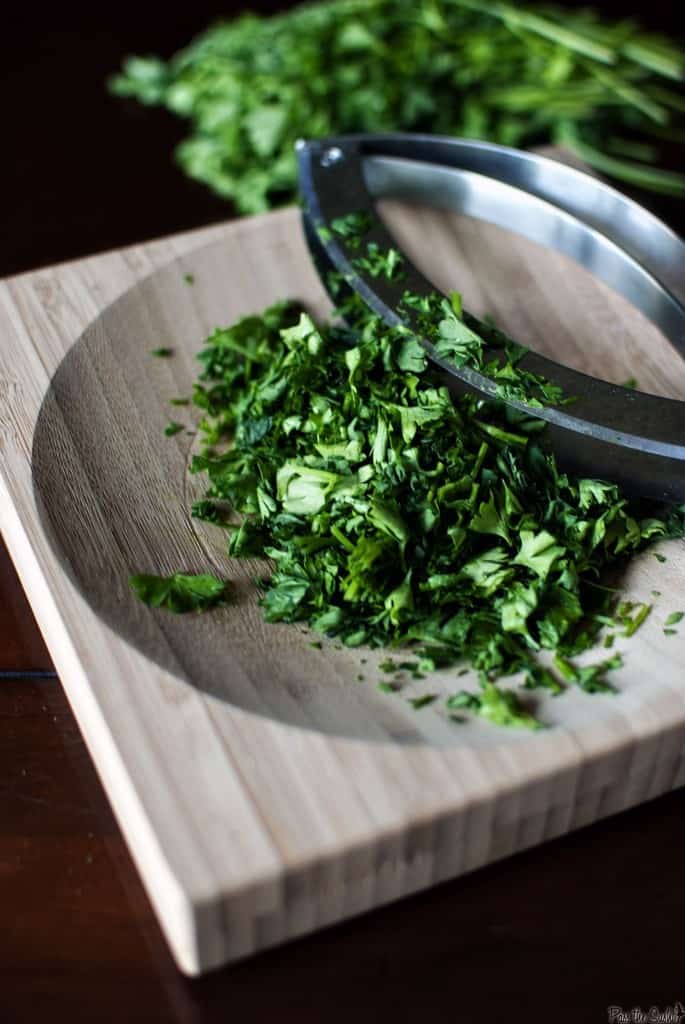 I didn't fiddle around with all that extra grilling. I cooked ours to rare, let it rest and sliced it for serving.